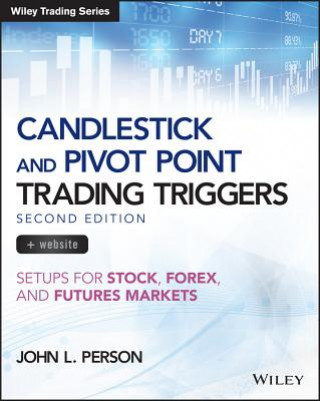 Kód: 13484460
Candlestick and Pivot Point Trading Triggers
Technical analysis for today's market, with smarter setups for less risk Candlestick and Pivot Point Trading Triggers +Website makes Pivot Point analysis relevant for today's market, with up-to-date data and new techniques that re ... celý popis
56.08 €
Bežne: 71.48 €
Ušetríte 15.41 €

Skladom v malom množstve
Odosielame do 48 hodín
Potrebujete viac kusov?Ak máte záujem o viac kusov, preverte, prosím, najprv dostupnosť titulu na našej zákazníckej podpore.
Pridať medzi želanie
Mohlo by sa vám tiež páčiť
45.11 €
17.67 € -7 %
25.99 € -30 %
32.68 €
80.12 € -40 %
6.95 € -13 %
41.93 €
16.32 € -6 %
69.27 € -15 %
10.66 € -27 %
40.56 €
47.97 €
9.71 € -27 %
19.38 € -15 %
Darujte túto knihu eště dnes
Objednajte knihu a vyberte Zaslať ako darček.
Obratom obdržíte darovací poukaz na knihu, ktorý môžete ihneď odovzdať obdarovanému.
Knihu zašleme na adresu obdarovaného, o nič sa nestaráte.
Viac informácií o knihe Candlestick and Pivot Point Trading Triggers
Anotácia knihy
Technical analysis for today's market, with smarter setups for less risk Candlestick and Pivot Point Trading Triggers +Website makes Pivot Point analysis relevant for today's market, with up-to-date data and new techniques that reflect the current trading environment. Tried-and-true tactics are modernized with new tools and approaches, and novel methodologies are introduced to help you make smarter trades while minimizing risk. Directional options strategies draw on analysis from Thinkorswim, TradeStation and Genesis Software, and are integrated with PPS Indicator and Persons Pivots. Quarterly pivots are introduced for long-term trading opportunities and option strategists, and leveraged and inverse-leveraged ETFs are brought into the detailed discussion on trading vehicles. The author's own proprietary setups have been updated to align with the new trading realities, and the new chapter on volume analysis covers the techniques used in his book Mastering the Stock Market. Combined with the tools and resources featured on the companion website, this book gives you the tools and techniques you need to boost your portfolio's performance. Technical analysis offers more profit opportunities than ever before, but the tools of the trade have changed. This book brings you up to date with the latest, so you can start getting even more out of your trades. Utilize leveraged and inverse-leveraged ETFs Integrate directional options strategies Apply new techniques for volume analysis Implement quarterly pivots for longer-term opportunities The 2006 publications of this book's first edition brought pivot point and candlestick charting into the limelight. The market has undergone massive changes in the past ten years, and many of the most effective techniques have been adjusted and integrated with new tools to become even more effective in today's market. This new second edition of Candlestick and Pivot Point Trading Triggers +Website brings clarity to the current market, and strength to your investment strategy.
Parametre knihy
Zaradenie knihy Knihy po anglicky Economics, finance, business & management Finance & accounting
Celý názov: Candlestick and Pivot Point Trading Triggers
Podnázov: Setups for Stock, Forex, and Futures Markets + Website
Autor: John L. Person
Jazyk: Angličtina
Väzba: Brožovaná
Počet strán: 368
EAN: 9781119295532
ISBN: 9781119295532
ID: 13484460 Nakladateľ: John Wiley & Sons
Hmotnosť: 556 g
Rozmery: 241 × 191 × 26 mm
Dátum vydania: 08. december 2020
Obľúbené z iného súdka
---
O tomto obchode




Nákupný poradca
Prehľady
---
Osobný odber Bratislava, Banská Bystrica, Košice, Žilina a 862 dalších
Pri poskytovaní služieb nám pomáhajú súbory cookies. Používaním našich služieb vyjadrujete súhlas ich užívaním. Viac informácií
---
Sme tu pre vás ako obvykle. Zákaznícka podpora a doručenie zásielok bez obmedzenia.

Nákupný košík ( prázdny )
---