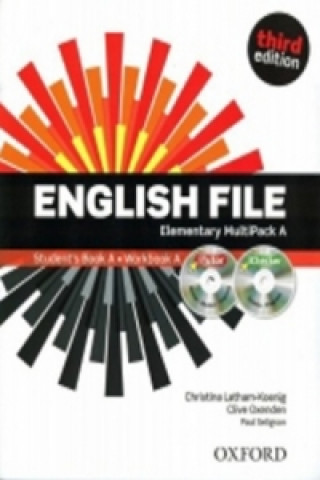 Kód: 00192615
English File third edition: Elementary: MultiPACK A
A new edition of the best-selling English File, improved throughout with brand new digital components to use inside and outside the classroom. English File Third edition – the best way to get your students talking. The English ... celý popis

Skladom u dodávateľa
Odosielame za 3 - 6 dní
Pridať medzi želanie
Mohlo by sa vám tiež páčiť
Darčekový poukaz: Radosť zaručená
Darujte poukaz v ľubovoľnej hodnote, a my sa postaráme o zvyšok.
Poukaz sa vzťahuje na všetky produkty v našej ponuke.
Elektronický poukaz si vytlačíte z e-mailu a môžete ho ihneď darovať.
Platnosť poukazu je 12 mesiacov od dátumu vystavenia.
Viac informácií o knihe English File third edition: Elementary: MultiPACK A
Nákupom získate 49 bodov
Anotácia knihy
A new edition of the best-selling English File, improved throughout with brand new digital components to use inside and outside the classroom. English File Third edition – the best way to get your students talking. The English File concept remains the same – fun, enjoyable lessons which get students talking through the right mix of language, motivation, and opportunity – but now the content and the components have been updated and improved for students and teachers. The English File third edition digital components help to make the most of teaching and learning opportunities inside and outside the classroom. The digital package includes: iTools (a digital classroom resource), iTutor and iChecker for students, Pronunciation App for mobiles, Online Workbook, Student's and Teacher's websites.
Parametre knihy
Zaradenie knihy Knihy po anglicky English language teaching (ELT) ELT: learning material & coursework ELT examination practice tests
Celý názov: English File third edition: Elementary: MultiPACK A
Podnázov: The best way to get your students talking
Autor: Clive Oxenden, Clive Oxenden, Paul Seligson
Jazyk: Angličtina
Väzba: Brožovaná
Počet strán: 94
EAN: 9780194598668
ISBN: 978-0-19-459866-8
ID: 00192615 Nakladateľ: Oxford University Press
Hmotnosť: 436 g
Rozmery: 278 × 220 × 10 mm
Dátum vydania: 05. júl 2012
Obľúbené z iného súdka
31.17 € -9 %
17.83 € -5 %
23.60 € -9 %
24.57 € -2 %
23.46 €
23.46 € -10 %
25.90 € -12 %
---
O tomto obchode




Nákupný poradca
Prehľady
---
Osobný odber Bratislava, Banská Bystrica, Košice a 1237 dalších
Pri poskytovaní služieb nám pomáhajú súbory cookies. Používaním našich služieb vyjadrujete súhlas ich užívaním. Viac informácií
---
Sme tu pre vás ako obvykle. Zákaznícka podpora a doručenie zásielok bez obmedzenia.

Nákupný košík ( prázdny )
---