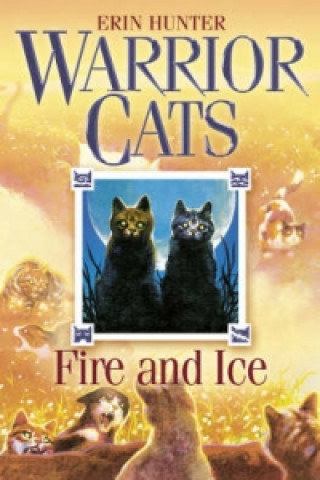 Kód: 04003748
Fire and Ice
The second of six titles, set in a thrilling world of wild cat clans. Firepaw, the warrior brave, is now Fireheart, warrior cat. Fireheart finds new danger lurking in the woods as the chill of winter sets in. This new series will ... celý popis
9.65 €
Bežne: 11.49 €
Dodáme do Vianoc

Skladom u dodávateľa
Odosielame za 3 - 5 dní
Pridať medzi želanie
Mohlo by sa vám tiež páčiť
Darujte túto knihu ešte dnes
Objednajte knihu a vyberte Zaslať ako darček.
Obratom obdržíte darovací poukaz na knihu, ktorý môžete ihneď odovzdať obdarovanému.
Knihu zašleme na adresu obdarovaného, o nič sa nestaráte.
Viac informácií o knihe Fire and Ice
Nákupom získate 24 bodov
Anotácia knihy
The second of six titles, set in a thrilling world of wild cat clans. Firepaw, the warrior brave, is now Fireheart, warrior cat. Fireheart finds new danger lurking in the woods as the chill of winter sets in. This new series will have particular appeal for fans of Brian Jacques' Redwall series. Fireheart could hear a roaring around him, like wind in tall trees. The acrid stench of the Thunderpath stung his nostrils, together with a new smell, sharper and more terrifying. Fire! WindClan is missing, and hostilities between the remaining three clans place all the cats in peril. Illness and tragic accidents weaken the camp, and ThunderClan needs all its warriors to defend itself...but Fireheart suspects that certain cats may not be as loyal as they appear.
Parametre knihy
Zaradenie knihy Knihy po anglicky Children's, Teenage & educational Children's / Teenage fiction & true stories Fantasy & magical realism (Children's / Teenage)
Celý názov: Fire and Ice
Autor: Erin Hunter
Jazyk: Angličtina
Väzba: Brožovaná
Počet strán: 352
EAN: 9780007217885
ISBN: 0007217889
ID: 04003748
Nakladateľ: HarperCollins Publishers
Hmotnosť: 246 g
Rozmery: 130 × 196 × 25 mm
Dátum vydania: 03. apríl 2006
Obľúbené z iného súdka
---
O tomto obchode




Nákupný poradca
Prehľady
Knihy podľa jazyka
---
---
Všetky knihy sveta na jednom mieste. Navyše za skvelé ceny.

Nákupný košík ( prázdny )
---