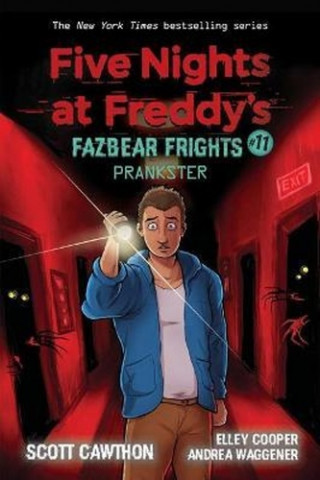 Kód: 33605444
Five Nights at Freddy's: Fazbear Frights #11
Five Nights at Freddy's fans won't want to miss this pulse-pounding collection of three novella-length tales that will keep even the bravest FNAF player up at night... Standing up for yourself can be hard... Jeremiah decides he's ... celý popis
8.87 €
Bežne: 11.36 €
Ušetríte 2.48 €

Skladom u dodávateľa
Odosielame za 3 - 5 dní
Pridať medzi želanie
Mohlo by sa vám tiež páčiť
Darčekový poukaz: Radosť zaručená
Darujte poukaz v ľubovoľnej hodnote, a my sa postaráme o zvyšok.
Poukaz sa vzťahuje na všetky produkty v našej ponuke.
Elektronický poukaz si vytlačíte z e-mailu a môžete ho ihneď darovať.
Platnosť poukazu je 12 mesiacov od dátumu vystavenia.
Viac informácií o knihe Five Nights at Freddy's: Fazbear Frights #11
Nákupom získate 21 bodov
Anotácia knihy
Five Nights at Freddy's fans won't want to miss this pulse-pounding collection of three novella-length tales that will keep even the bravest FNAF player up at night... Standing up for yourself can be hard... Jeremiah decides he's done being the butt of his coworker's jokes at their small game studio.
Joel is counting the days until he can quit his family's garden centre and hit the road to a new life. Aimee finally works up the courage to ditch her loud-mouthed, annoying friend at Freddy Fazbear's Pizza. But when it comes to Five Nights at Freddy's, even the most well-meaning actions can reap horrible consequences.
In this eleventh volume, Five Nights at Freddy's creator Scott Cawthon spins three sinister novella-length stories from different corners of his series' canon.
Readers beware: this collection of terrifying tales is enough to unsettle even the most hardened Five Nights at Freddy's fans Perfect for video game fans and fans of horror If you enjoy the FNAF series, check out Bendy and the Ink Machine and Hello Neighbor.
Parametre knihy
Celý názov: Five Nights at Freddy's: Fazbear Frights #11
Podnázov: Prankster
Autor: Scott Cawthon, Andrea Waggener, Elley Cooper
Edícia: Five Nights at Freddy's, five-nights-at-freddy-s
Jazyk: Angličtina
Väzba: Brožovaná
Počet strán: 224
EAN: 9781338741209
ISBN: 1338741209
ID: 33605444
Nakladateľ: Scholastic
Hmotnosť: 182 g
Rozmery: 133 × 198 × 17 mm
Dátum vydania: 31. október 2021
---
O tomto obchode




Nákupný poradca
Prehľady
Knihy podľa jazyka
---
---
Všetky knihy sveta na jednom mieste. Navyše za skvelé ceny.

Nákupný košík ( prázdny )
---