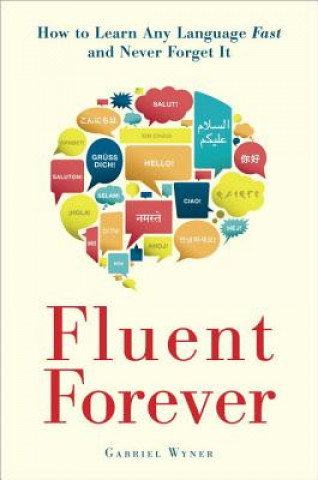 Kód: 02606958
Fluent Forever
NATIONAL BESTSELLER  For anyone who wants to learn a foreign language, this is the method that will finally make the words stick. A brilliant and thoroughly modern guide to learning new languages. Gary Marcus, cognitive psychologi ... celý popis
14.61 €
Bežne: 18.11 €
Ušetríte 3.50 €

Skladom u dodávateľa
Odosielame za 3 - 5 dní
Pridať medzi želanie
Mohlo by sa vám tiež páčiť
Darčekový poukaz: Radosť zaručená
Darujte poukaz v ľubovoľnej hodnote, a my sa postaráme o zvyšok.
Poukaz sa vzťahuje na všetky produkty v našej ponuke.
Elektronický poukaz si vytlačíte z e-mailu a môžete ho ihneď darovať.
Platnosť poukazu je 12 mesiacov od dátumu vystavenia.
Viac informácií o knihe Fluent Forever
Nákupom získate 36 bodov
Anotácia knihy
NATIONAL BESTSELLER  For anyone who wants to learn a foreign language, this is the method that will finally make the words stick.
 
A brilliant and thoroughly modern guide to learning new languages. Gary Marcus, cognitive psychologist and author of the New York Times bestseller Guitar Zero
 
At thirty years old, Gabriel Wyner speaks six languages fluently. He didn t learn them in school who does? Rather, he learned them in the past few years, working on his own and practicing on the subway, using simple techniques and free online resources and here he wants to show others what he s discovered.
 
Starting with pronunciation, you ll learn how to rewire your ears and turn foreign sounds into familiar sounds. You ll retrain your tongue to produce those sounds accurately, using tricks from opera singers and actors. Next, you ll begin to tackle words, and connect sounds and spellings to imagery rather than translations, which will enable you to think in a foreign language. And with the help of sophisticated spaced-repetition techniques, you ll be able to memorize hundreds of words a month in minutes every day. 
 
This is brain hacking at its most exciting, taking what we know about neuroscience and linguistics and using it to create the most efficient and enjoyable way to learn a foreign language in the spare minutes of your day. 
Parametre knihy
Zaradenie knihy Knihy po anglicky Language Language teaching & learning (other than ELT) Language teaching & learning material & coursework
Celý názov: Fluent Forever
Podnázov: How to Learn every language fast and never forget it
Autor: Gabriel Wyner
Jazyk: Angličtina
Väzba: Brožovaná
Počet strán: 400
EAN: 9780385348119
ISBN: 0385348118
ID: 02606958 Nakladateľ: Random House
Hmotnosť: 346 g
Rozmery: 234 × 157 × 18 mm
Dátum vydania: 05. august 2014
Obľúbené z iného súdka
---
O tomto obchode




Nákupný poradca
Prehľady
Knihy podľa jazyka
---
---
Sme tu pre vás ako obvykle. Zákaznícka podpora a doručenie zásielok bez obmedzenia.

Nákupný košík ( prázdny )
---