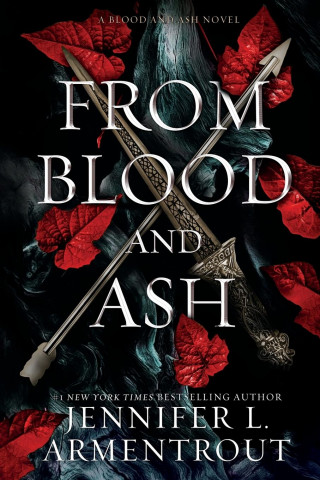 Kód: 38612637
From Blood and Ash
A Maiden... Chosen from birth to usher in a new era, Poppy's life has never been her own. The life of the Maiden is solitary. Never to be touched. Never to be looked upon. Never to be spoken to. Never to experience pleasure. Wa ... celý popis
29.05 €
Nedodáme do Vianoc

Skladom u dodávateľa
Odosielame za 23 - 27 dní
Pridať medzi želanie
Mohlo by sa vám tiež páčiť
Darčekový poukaz: Radosť zaručená
Darujte poukaz v ľubovoľnej hodnote, a my sa postaráme o zvyšok.
Poukaz sa vzťahuje na všetky produkty v našej ponuke.
Elektronický poukaz si vytlačíte z e-mailu a môžete ho ihneď darovať.
Platnosť poukazu je 12 mesiacov od dátumu vystavenia.
Viac informácií o knihe From Blood and Ash
Nákupom získate 71 bodov
Anotácia knihy
A Maiden...
Chosen from birth to usher in a new era, Poppy's life has never been her own. The life of the Maiden is solitary. Never to be touched. Never to be looked upon. Never to be spoken to. Never to experience pleasure.
Waiting for the day of her Ascension, she would rather be with the guards, fighting back the evil that took her family, than preparing to be found worthy by the gods. But the choice has never been hers.
A Duty...
The entire kingdom's future rests on Poppy's shoulders, something she's not even quite sure she wants for herself. Because a Maiden has a heart. And a soul. And longing. And when Hawke, a golden-eyed guard honor bound to ensure her Ascension, enters her life, destiny and duty become tangled with desire and need. He incites her anger, makes her question everything she believes in, and tempts her with the forbidden.
A Kingdom...
Forsaken by the gods and feared by mortals, a fallen kingdom is rising once more, determined to take back what they believe is theirs through violence and vengeance. And as the shadow of those cursed draws closer, the line between what is forbidden and what is right becomes blurred. Poppy is not only on the verge of losing her heart and being found unworthy by the gods, but also her life when every blood-soaked thread that holds her world together begins to unravel.
Parametre knihy
Zaradenie knihy Knihy po nemecky Belletristik Science Fiction, Fantasy
Celý názov: From Blood and Ash
Autor: Jennifer L. Armentrout
Jazyk: Angličtina
Väzba: Brožovaná
Počet strán: 494
EAN: 9781952457760
ISBN: 1952457769
ID: 38612637
Nakladateľ: Blue Box Press
Hmotnosť: 738 g
Rozmery: 152 × 228 × 33 mm
Dátum vydania: 13. január 2022
Obľúbené z iného súdka
---
O tomto obchode




Nákupný poradca
Prehľady
Knihy podľa jazyka
---