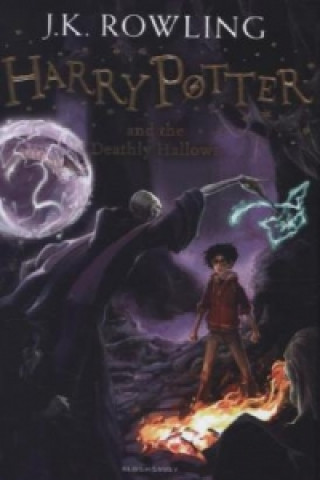 Kód: 02676351
Harry Potter and the Deathly Hallows
Harry Potter is preparing to leave the Dursleys and Privet Drive for the last time. But the future that awaits him is full of danger, not only for him, but for anyone close to him - and Harry has already lost so much. Only by dest ... celý popis
18.35 €
Bežne: 24.05 €
Ušetríte 5.70 €

Skladom u dodávateľa
Odosielame za 3 - 5 dní
Pridať medzi želanie
Mohlo by sa vám tiež páčiť
Darčekový poukaz: Radosť zaručená
Darujte poukaz v ľubovoľnej hodnote, a my sa postaráme o zvyšok.
Poukaz sa vzťahuje na všetky produkty v našej ponuke.
Elektronický poukaz si vytlačíte z e-mailu a môžete ho ihneď darovať.
Platnosť poukazu je 12 mesiacov od dátumu vystavenia.
Viac informácií o knihe Harry Potter and the Deathly Hallows
Nákupom získate 45 bodov
Anotácia knihy
Harry Potter is preparing to leave the Dursleys and Privet Drive for the last time. But the future that awaits him is full of danger, not only for him, but for anyone close to him - and Harry has already lost so much. Only by destroying Voldemort's remaining Horcruxes can Harry free himself and overcome the Dark Lord's forces of evil. In this dramatic conclusion to the Harry Potter series, Harry must leave his most loyal friends behind, and in a final perilous journey find the strength and the will to face his terrifying destiny: a deadly confrontation that is his alone to fight. These new editions of the classic and internationally bestselling, multi-award-winning series feature instantly pick-up-able new jackets by Jonny Duddle, with huge child appeal, to bring Harry Potter to the next generation of readers. It's time to PASS THE MAGIC ON .
Parametre knihy
Zaradenie knihy Knihy po anglicky Children's, Teenage & educational Children's / Teenage fiction & true stories General fiction (Children's / Teenage)
Celý názov: Harry Potter and the Deathly Hallows
Autor: Joanne K. Rowling, Jonny Duddle
Jazyk: Angličtina
Väzba: Pevná
Počet strán: 640
EAN: 9781408855959
ISBN: 140885595X
ID: 02676351 Nakladateľ: Bloomsbury Publishing
Hmotnosť: 606 g
Rozmery: 199 × 137 × 46 mm
Dátum vydania: 01. september 2014
Obľúbené z iného súdka
---
O tomto obchode




Nákupný poradca
Prehľady
Knihy podľa jazyka
---
---
Sme tu pre vás ako obvykle. Zákaznícka podpora a doručenie zásielok bez obmedzenia.

Nákupný košík ( prázdny )
---