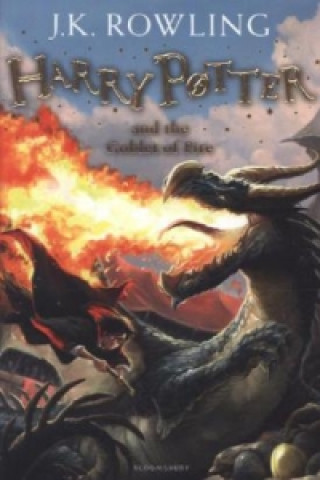 Kód: 02633837
Harry Potter and the Goblet of Fire
The Triwizard Tournament is to be held at Hogwarts. Only wizards who are over seventeen are allowed to enter – but that doesn't stop Harry dreaming that he will win the competition. Then at Hallowe'en, when the Goblet of Fire ma ... celý popis
9.34 €
Bežne: 11.47 €
Dodáme do Vianoc

Skladom u dodávateľa
Odosielame do 4 dní
Pridať medzi želanie
Mohlo by sa vám tiež páčiť
Darčekový poukaz: Radosť zaručená
Darujte poukaz v ľubovoľnej hodnote, a my sa postaráme o zvyšok.
Poukaz sa vzťahuje na všetky produkty v našej ponuke.
Elektronický poukaz si vytlačíte z e-mailu a môžete ho ihneď darovať.
Platnosť poukazu je 12 mesiacov od dátumu vystavenia.
Viac informácií o knihe Harry Potter and the Goblet of Fire
Nákupom získate 23 bodov
Anotácia knihy
The Triwizard Tournament is to be held at Hogwarts. Only wizards who are over seventeen are allowed to enter – but that doesn't stop Harry dreaming that he will win the competition.
Then at Hallowe'en, when the Goblet of Fire makes its selection, Harry is amazed to find his name is one of those that the magical cup picks out. He will face death-defying tasks, dragons and Dark wizards, but with the help of his best friends, Ron and Hermione, he might just make it through – alive! These new editions of the classic and internationally bestselling, multi-award-winning series feature instantly pick-up-able new jackets by Jonny Duddle, with huge child appeal, to bring Harry Potter to the next generation of readers.
It's time to PASS THE MAGIC ON
Parametre knihy
Zaradenie knihy Knihy po anglicky Children's, Teenage & educational Children's / Teenage fiction & true stories Fantasy & magical realism (Children's / Teenage)
Celý názov: Harry Potter and the Goblet of Fire
Autor: Joanne Kathleen Rowling
Edícia: Harry Potter, harry-potter
Jazyk: Angličtina
Väzba: Brožovaná
Počet strán: 640
EAN: 9781408855683
ISBN: 1408855682
ID: 02633837 Nakladateľ: Bloomsbury Publishing
Hmotnosť: 508 g
Rozmery: 200 × 130 × 45 mm
Dátum vydania: 01. september 2014
Obľúbené z iného súdka
---
O tomto obchode




Nákupný poradca
Prehľady
Knihy podľa jazyka
---
---
Všetky knihy sveta na jednom mieste. Navyše za skvelé ceny.

Nákupný košík ( prázdny )
---