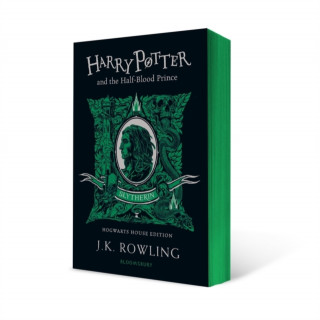 Kód: 33242604
Harry Potter and the Half-Blood Prince - Slytherin Edition
This Slytherin House Edition of Harry Potter and the Half-Blood Prince celebrates the noble character of the Hogwarts house famed for its pride, ambition and cunning. Harry's sixth year at Hogwarts is packed with more great Slythe ... celý popis
11.73 €
Bežne: 15.15 €
Ušetríte 3.41 €

Skladom u dodávateľa
Odosielame za 7 - 12 dní
Pridať medzi želanie
Mohlo by sa vám tiež páčiť
Darčekový poukaz: Radosť zaručená
Darujte poukaz v ľubovoľnej hodnote, a my sa postaráme o zvyšok.
Poukaz sa vzťahuje na všetky produkty v našej ponuke.
Elektronický poukaz si vytlačíte z e-mailu a môžete ho ihneď darovať.
Platnosť poukazu je 12 mesiacov od dátumu vystavenia.
Viac informácií o knihe Harry Potter and the Half-Blood Prince - Slytherin Edition
Nákupom získate 31 bodov
Anotácia knihy
This Slytherin House Edition of Harry Potter and the Half-Blood Prince celebrates the noble character of the Hogwarts house famed for its pride, ambition and cunning. Harry's sixth year at Hogwarts is packed with more great Slytherin moments and characters - not least Professor Slughorn's return to Hogwarts and the unveiling of Tom Riddle's past. Each Slytherin House Edition features vibrant sprayed edges and intricate silver foiling. The stunning cover design has a cameo-style portrait of the Half-Blood Prince as the central icon, framed by beautiful house-themed iconography. In addition to a bespoke introduction, the Slytherin Edition also contains new illustrations by Kate Greenaway Medal winner Levi Pinfold, including a portrait of proud Slytherin student Draco Malfoy, and a thrilling image of a young Severus Snape studying Advanced Potion-Making to accompany a feature on magical books. All seven books in the series will be issued in these highly collectable, beautifully crafted House Editions, designed to be treasured and read for years to come. A must-have for anyone who has ever imagined sitting under the Sorting Hat in the Great Hall at Hogwarts waiting to hear the words, 'Better be SLYTHERIN!'
Parametre knihy
Na knihu zľava pre
ISIC/ITIC držiteľov
11.73 €
Celý názov: Harry Potter and the Half-Blood Prince - Slytherin Edition
Autor: J.K. Rowling
Jazyk: Angličtina
Väzba: Brožovaná
Počet strán: 560
EAN: 9781526618290
ISBN: 152661829X
ID: 33242604 Nakladateľ: Bloomsbury Publishing
Hmotnosť: 1000 g
Rozmery: 198 × 129 mm
Dátum vydania: 21. január 2021
---
O tomto obchode




Nákupný poradca
Prehľady
---
Osobný odber Bratislava, Banská Bystrica, Košice, Žilina a 970 dalších
Pri poskytovaní služieb nám pomáhajú súbory cookies. Používaním našich služieb vyjadrujete súhlas ich užívaním. Viac informácií
---
Sme tu pre vás ako obvykle. Zákaznícka podpora a doručenie zásielok bez obmedzenia.

Nákupný košík ( prázdny )
---