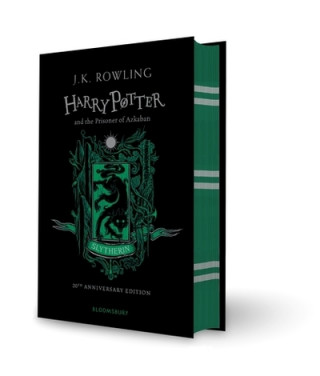 Kód: 21287160
Harry Potter and the Prisoner of Azkaban - Slytherin Edition
Let the magic of J.K. Rowling's classic Harry Potter series take you back to Hogwarts School of Witchcraft and Wizardry. Issued to mark the 20th anniversary of first publication of Harry Potter and the Prisoner of Azkaban, this ir ... celý popis
10.89 €
Bežne: 16.15 €
Ušetríte 5.26 €

Skladom v malom množstve
Odosielame do 48 hodín
Potrebujete viac kusov?Ak máte záujem o viac kusov, preverte, prosím, najprv dostupnosť titulu na našej zákazníckej podpore.
Pridať medzi želanie
Mohlo by sa vám tiež páčiť
Darujte túto knihu ešte dnes
Objednajte knihu a vyberte Zaslať ako darček.
Obratom obdržíte darovací poukaz na knihu, ktorý môžete ihneď odovzdať obdarovanému.
Knihu zašleme na adresu obdarovaného, o nič sa nestaráte.
Viac informácií o knihe Harry Potter and the Prisoner of Azkaban - Slytherin Edition
Anotácia knihy
Let the magic of J.K. Rowling's classic Harry Potter series take you back to Hogwarts School of Witchcraft and Wizardry. Issued to mark the 20th anniversary of first publication of Harry Potter and the Prisoner of Azkaban, this irresistible Slytherin House Edition celebrates the noble character of the Hogwarts house famed for its pride, ambition and cunning. Harry's third year at Hogwarts is packed with thrilling Slytherin moments, including Draco Malfoy's typically sneaky attempts to sabotage the Gryffindor Seeker ... With vibrant sprayed edges in Slytherin house livery, the book features beautiful house-themed cover artwork with intricate gold foiling. With an exciting, bespoke introduction exploring the history of Slytherin House, and exclusive insights into the use of the Patronus Charm by favourite Slytherin characters, the book also boasts a spectacular image by Kate Greenaway winner Levi Pinfold of Severus Snape conjuring his Patronus. All seven books in the series will be issued in these highly collectable, beautifully crafted House Editions, designed to be treasured and read for years to come. A must-have for anyone who has ever imagined sitting under the Sorting Hat in the Great Hall at Hogwarts waiting to hear the words, `Better be SLYTHERIN!'
Parametre knihy
Zaradenie knihy Knihy po anglicky Children's, Teenage & educational Children's / Teenage fiction & true stories Fantasy & magical realism (Children's / Teenage)
Celý názov: Harry Potter and the Prisoner of Azkaban - Slytherin Edition
Autor: Joanne K. Rowling
Jazyk: Angličtina
Väzba: Pevná
Počet strán: 480
EAN: 9781526606228
ISBN: 1526606224
ID: 21287160 Nakladateľ: Bloomsbury Publishing
Hmotnosť: 480 g
Rozmery: 138 × 206 × 34 mm
Dátum vydania: 13. jún 2019
Obľúbené z iného súdka
---
O tomto obchode




Nákupný poradca
Prehľady
---
---
Sme tu pre vás ako obvykle. Zákaznícka podpora a doručenie zásielok bez obmedzenia.

Nákupný košík ( prázdny )
---