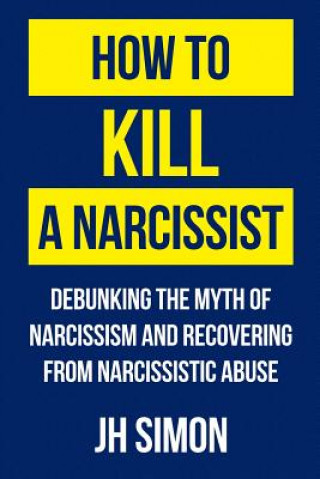 Kód: 15761392
How To Kill A Narcissist
Narcissism is an overwhelming and confusing topic. But when you reveal its mask, you see that it is basically a lie, told to those who are vulnerable. Narcissistic abuse, by nature, is designed to ke ... celý popis
17.71 €
Bežne: 18.10 €
Ušetríte 0.39 €

Skladom u dodávateľa
Odosielame za 16 - 20 dní
Pridať medzi želanie
Mohlo by sa vám tiež páčiť
16.73 €
20.13 €
23.48 €
16.23 € -17 %
5.59 € -23 %
15.03 € -6 %
13.12 € -12 %
18.31 € -2 %
14.32 € -23 %
11.62 € -17 %
10.88 € -4 %
10.60 € -26 %
6.48 € -26 %
12.08 € -14 %
9.52 € -7 %
12.23 € -19 %
37.12 € -25 %
21.88 € -27 %
9.56 € -26 %
16.83 € -26 %
Darčekový poukaz: Radosť zaručená
Darujte poukaz v ľubovoľnej hodnote, a my sa postaráme o zvyšok.
Poukaz sa vzťahuje na všetky produkty v našej ponuke.
Elektronický poukaz si vytlačíte z e-mailu a môžete ho ihneď darovať.
Platnosť poukazu je 12 mesiacov od dátumu vystavenia.
Viac informácií o knihe How To Kill A Narcissist
Nákupom získate 44 bodov
Anotácia knihy
Narcissism is an overwhelming and confusing topic. But when you reveal its mask, you see that it is basically a lie, told to those who are vulnerable. Narcissistic abuse, by nature, is designed to keep you trapped in shame-based vertigo. It doesn't just go away because you know it exists. Narcissism creates a set of beliefs, behaviours and paradigms in its target which must be changed from the inside. 'How To Kill A Narcissist' is a book with two aims: 1. To reveal the rotten core of narcissistic personality disorder so you can see it clearly 2. To present you with an inside-out strategy for healing, recovery and freedom Whether you are dealing with narcissistic parents, husbands, wives, friends, bosses or colleagues, the same philosophy will apply. After reading 'How To Kill A Narcissist', you will: - Become aware of the damage narcissistic abuse has done to your psyche and how to heal it - See how the narcissist uses shame as a weapon to fool you into feeling inferior - Understand the playing field which narcissists thrive on and how to stop playing their game - Learn how the narcissist uses mind control to break down and rebuild your identity for the purpose of subjugation - Gain tools for disarming a narcissist i.e. starving them of their narcissistic supply 'How To Kill A Narcissist' takes an enlightening look at the dynamic between a narcissist and their target. It takes you on a deep journey and describes: - How we unwittingly qualify as targets of narcissists - The shame/grandiosity continuum and how the narcissist uses it to crush your self-esteem - The law of grandiosity and how it influences our relationships with the self-absorbed - The effect that narcissism has on its target including: toxic shame, a dissociated mind and a weakened ego - The obstacles which keep you trapped in a cycle of narcissistic abuse: the psychological cage, love starvation, low shame tolerance, guilt and conditioning to shamelessness Using an inside-out approach, 'How To Kill A Narcissist' presents the seven practices for recovery and healing: 1. Get allies: Boost self-esteem through limbic resonance 2. Give shape to your true self: Uncover disowned parts of the self and restore wholeness 3. Skill up: Empower yourself 4. Flex your muscles: Challenge the psychological cage and come out of hiding 5. Even the scale: Restore balance to your relationships 6. Boundaries: Foster a strong sense of self and firmly protect it 7. Scorched earth: Disengage from those who wish to manipulate you Each practice is designed to instil you with independence, strength, emotional resilience and awareness while allowing you to cultivate balanced, loving relationships and pursue a life of passion. This is the art of killing a narcissist.
Parametre knihy
Zaradenie knihy Knihy po anglicky Society & social sciences Psychology Abnormal psychology
Celý názov: How To Kill A Narcissist
Podnázov: Debunking The Myth Of Narcissism And Recovering From Narcissistic Abuse
Autor: JH Simon
Jazyk: Angličtina
Väzba: Brožovaná
Počet strán: 184
EAN: 9780648012801
ISBN: 0648012808
ID: 15761392 Nakladateľ: Jh Simon
Hmotnosť: 292 g
Rozmery: 151 × 228 × 17 mm
Dátum vydania: 18. august 2016
Obľúbené z iného súdka
---
O tomto obchode




Nákupný poradca
Prehľady
Knihy podľa jazyka
---
---
Sme tu pre vás ako obvykle. Zákaznícka podpora a doručenie zásielok bez obmedzenia.

Nákupný košík ( prázdny )
---