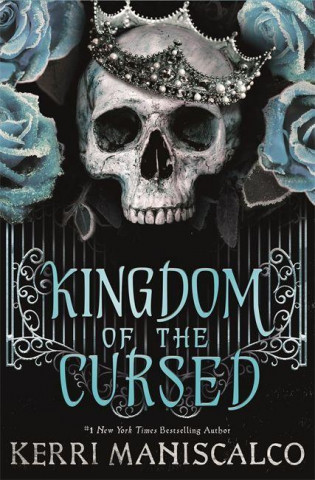 Kód: 33523543
Kingdom of the Cursed
The Sunday Times bestseller.One sister. Two sinful princes. Infinite deception with a side of revenge .. . Welcome to Hell.From the #1 New York Times bestselling author Kerri Maniscalco comes the sizzling and sweepingly romantic s ... celý popis
18.06 €
Bežne: 18.91 €
Ušetríte 0.86 €

Skladom u dodávateľa
Odosielame za 3 - 5 dní
Pridať medzi želanie
Mohlo by sa vám tiež páčiť
Darčekový poukaz: Radosť zaručená
Darujte poukaz v ľubovoľnej hodnote, a my sa postaráme o zvyšok.
Poukaz sa vzťahuje na všetky produkty v našej ponuke.
Elektronický poukaz si vytlačíte z e-mailu a môžete ho ihneď darovať.
Platnosť poukazu je 12 mesiacov od dátumu vystavenia.
Viac informácií o knihe Kingdom of the Cursed
Nákupom získate 43 bodov
Anotácia knihy
The Sunday Times bestseller.One sister. Two sinful princes. Infinite deception with a side of revenge .. . Welcome to Hell.From the #1 New York Times bestselling author Kerri Maniscalco comes the sizzling and sweepingly romantic sequel to Kingdom of the Wicked.With the enigmatic Prince of Wrath at her side, Emilia sold her soul to become Queen of the Wicked and travelled to the Seven Circles to fulfil her vow of avenging her beloved sister.But the first rule in the court of the Wicked? Trust no one. And it quickly becomes clear that nothing in Hell is what it seems. Even Wrath, her onetime ally, may be keeping secrets about his true nature.But that suits Emilia just fine - she's got secrets of her own.Faced with backstabbing courtiers, princes who delight in fear, luxurious palaces, dazzling galas, and conflicting clues about what truly happened to her sister, Emilia finds herself on a mission to unlock the mysteries of her own past and uncover the answers she craves.As long as her sins don't catch up to her first . . .*** PRAISE FOR KERRI MANISCALCO ***'A delicious and intoxicating new fantasy by a master of murder and mayhem' Elizabeth Lim, author of Spin the Dawn'An intoxicating, tightly plotted feast for the senses' Kirkus'A fast-paced adventure steeped in a luscious and dark world' Chloe Gong, NYT bestselling author of These Violent Delights
Parametre knihy
Zaradenie knihy Knihy po anglicky Children's, Teenage & educational Children's / Teenage fiction & true stories Fantasy & magical realism (Children's / Teenage)
Celý názov: Kingdom of the Cursed
Autor: Kerri Maniscalco
Edícia: Kingdom of the Wicked, kingdom-of-the-wicked
Jazyk: Angličtina
Väzba: Brožovaná
Počet strán: 436
EAN: 9781529350524
ISBN: 1529350522
ID: 33523543
Nakladateľ: Hodder & Stoughton
Hmotnosť: 550 g
Rozmery: 153 × 233 × 36 mm
Dátum vydania: 05. október 2021
Obľúbené z iného súdka
---
O tomto obchode




Nákupný poradca
Prehľady
Knihy podľa jazyka
---
---
Všetky knihy sveta na jednom mieste. Navyše za skvelé ceny.

Nákupný košík ( prázdny )
---