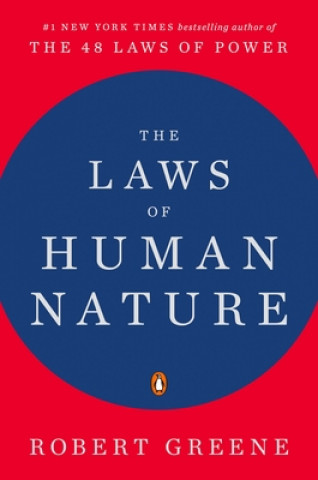 Kód: 24345969
Laws of Human Nature
From the #1 New York Times-bestselling author of The 48 Laws of Power comes the definitive new book on decoding the behavior of the people around you Robert Greene is a master guide for millions of readers, distilling ancient wi ... celý popis
20.24 €
Bežne: 23.65 €
Ušetríte 3.41 €

Skladom v malom množstve
Odosielame do 48 hodín
Potrebujete viac kusov?Ak máte záujem o viac kusov, preverte, prosím, najprv dostupnosť titulu na našej zákazníckej podpore.
Pridať medzi želanie
Mohlo by sa vám tiež páčiť
Darujte túto knihu ešte dnes
Objednajte knihu a vyberte Zaslať ako darček.
Obratom obdržíte darovací poukaz na knihu, ktorý môžete ihneď odovzdať obdarovanému.
Knihu zašleme na adresu obdarovaného, o nič sa nestaráte.
Viac informácií o knihe Laws of Human Nature
Nákupom získate 50 bodov
Anotácia knihy
From the #1 New York Times-bestselling author of The 48 Laws of Power comes the definitive new book on decoding the behavior of the people around you
Robert Greene is a master guide for millions of readers, distilling ancient wisdom and philosophy into essential texts for seekers of power, understanding and mastery. Now he turns to the most important subject of all - understanding people's drives and motivations, even when they are unconscious of them themselves.
We are social animals. Our very lives depend on our relationships with people. Knowing why people do what they do is the most important tool we can possess, without which our other talents can only take us so far. Drawing from the ideas and examples of Pericles, Queen Elizabeth I, Martin Luther King Jr, and many others, Greene teaches us how to detach ourselves from our own emotions and master self-control, how to develop the empathy that leads to insight, how to look behind people's masks, and how to resist conformity to develop your singular sense of purpose.
Whether at work, in relationships, or in shaping the world around you, The Laws of Human Nature offers brilliant tactics for success, self-improvement, and self-defense.
Parametre knihy
Zaradenie knihy Knihy po anglicky Health & personal development Self-help & personal development Advice on careers & achieving success
Celý názov: Laws of Human Nature
Autor: Robert Greene
Jazyk: Angličtina
Väzba: Brožovaná
Počet strán: 609
EAN: 9780143111375
ISBN: 014311137X
ID: 24345969 Nakladateľ: Penguin LCC US
Hmotnosť: 900 g
Rozmery: 234 × 166 × 32 mm
Dátum vydania: 01. október 2019
Obľúbené z iného súdka
---
O tomto obchode




Nákupný poradca
Prehľady
Knihy podľa jazyka
---