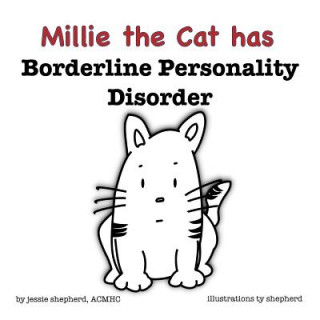 Kód: 15454113
Mille the Cat has Borderline Personality Disorder
Often when people are given a mental health disorder diagnosis the weaknesses are clear and overwhelmingly emphasized, while the strengths are ignored or forgotten. The mental health children's book series 'What Mental Disorder?' ... celý popis

Skladom u dodávateľa
Odosielame za 16 - 20 dní
Pridať medzi želanie
Mohlo by sa vám tiež páčiť
9.91 €
10.70 € -19 %
18.35 € -3 %
19.94 € -21 %
20.95 € -4 %
15.82 € -12 %
16.33 € -1 %
20.51 € -19 %
17.03 € -21 %
39.39 € -21 %
14.63 € -16 %
15.50 € -19 %
14.11 € -12 %
27.15 €
12.79 € -12 %
14.78 € -21 %
10.17 € -16 %
10.30 € -21 %
9.23 €
12.54 € -21 %
Darčekový poukaz: Radosť zaručená
Darujte poukaz v ľubovoľnej hodnote, a my sa postaráme o zvyšok.
Poukaz sa vzťahuje na všetky produkty v našej ponuke.
Elektronický poukaz si vytlačíte z e-mailu a môžete ho ihneď darovať.
Platnosť poukazu je 12 mesiacov od dátumu vystavenia.
Viac informácií o knihe Mille the Cat has Borderline Personality Disorder
Nákupom získate 31 bodov
Anotácia knihy
Often when people are given a mental health disorder diagnosis the weaknesses are clear and overwhelmingly emphasized, while the strengths are ignored or forgotten. The mental health children's book series 'What Mental Disorder?' challenges the stigma against therapy and diagnosis. It enlists the reader to view the character as a whole being and not as a mental issue. Although there are aspects that the character will have to learn to cope with in order to function successfully in their life, there are also amazing traits that make them unique and remarkably accomplished. Millie the Cat has Borderline Personality Disorder is a picture book that takes a unique look at the positive and negative characteristics of Borderline Personality Disorder. Meeting kind Mille you get to experience how her day to day routine is, the aspects that she will have to cope with, the amazing personality traits that she has, and how she can learn new skills to be the best cat she can be. It is written in such a way that the mental health disorder is explained in a realistic balanced light, while eliciting empathy and understanding from the audience. The book series 'What Mental Disorder?' including Millie the Cat has Borderline Personality Disorder is excellent for therapeutic clinicians, those diagnosed with Borderline Personality Disorder, or those who would like to gain a better understanding of the disorder.
Parametre knihy
Zaradenie knihy Knihy po anglicky Medicine Medicine: general issues Health systems & services
Celý názov: Mille the Cat has Borderline Personality Disorder
Autor: Jessie Shepherd
Jazyk: Angličtina
Väzba: Brožovaná
Počet strán: 50
EAN: 9781943880102
ISBN: 1943880107
ID: 15454113 Nakladateľ: BlueFox Press
Hmotnosť: 146 g
Rozmery: 218 × 256 × 7 mm
Dátum vydania: 26. október 2016
Obľúbené z iného súdka
---
O tomto obchode




Nákupný poradca
Prehľady
Knihy podľa jazyka
---
---
Sme tu pre vás ako obvykle. Zákaznícka podpora a doručenie zásielok bez obmedzenia.

Nákupný košík ( prázdny )
---