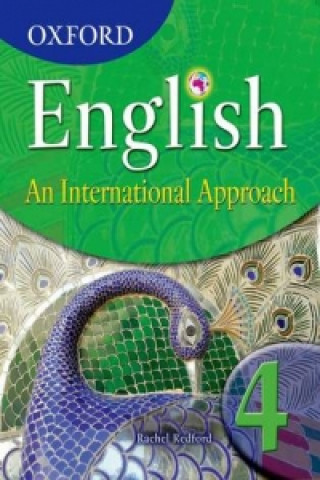 Kód: 01187438
Oxford English: An International Approach Student Book 4
With a fresh, unique approach to English, this enquiry based series provides support for ESL and mainstream students in all of the four language skills making it the perfect resource for international schools. This new course p ... celý popis

Skladom v malom množstve
Odosielame do 24 hodín
Potrebujete viac kusov?Ak máte záujem o viac kusov, preverte, prosím, najprv dostupnosť titulu na našej zákazníckej podpore.
Pridať medzi želanie
Mohlo by sa vám tiež páčiť
7.17 € -1 %
7.84 € -9 %
17.97 € -16 %
11.76 € -17 %
9.24 € -11 %
10.29 € -10 %
8.87 € -3 %
11.69 € -20 %
29.29 € -16 %
300.51 €
Darujte túto knihu eště dnes
Objednajte knihu a vyberte Zaslať ako darček.
Obratom obdržíte darovací poukaz na knihu, ktorý môžete ihneď odovzdať obdarovanému.
Knihu zašleme na adresu obdarovaného, o nič sa nestaráte.
Viac informácií o knihe Oxford English: An International Approach Student Book 4
Anotácia knihy
With a fresh, unique approach to English, this enquiry based series provides support for ESL and mainstream students in all of the four language skills making it the perfect resource for international schools. This new course provides students and teachers with current, meaningful, and practical activities along a thematic approach to help students to develop skills, gain confidence and enjoy the study of English. Each book provides reading, writing, listening and speaking activities that support the development of skills, knowledge, values and attitudes. The contents link up with internationally relevant and topical issues, helping students relate the study of English to other subject areas and understand the wider importance of their study, building their enthusiasm. Features Comprehensive course of study supporting the four language skills in a practical yet enquiry based framework Content that introduces global contexts and issues to encourage critical thinking, self-discovery and problem-solving Plenty of cross curricular links, helping students understand the relevance of their learning Teacher
Parametre knihy
Zaradenie knihy Knihy po anglicky Children's, Teenage & educational Educational material Educational: English language & literacy
Celý názov: Oxford English: An International Approach Student Book 4
Autor: Rachel Redford
Jazyk: Angličtina
Väzba: Brožovaná
Počet strán: 224
EAN: 9780199126675
ISBN: 0199126674
ID: 01187438 Nakladateľ: Oxford University Press
Hmotnosť: 650 g
Rozmery: 276 × 219 × 11 mm
Dátum vydania: 02. september 2010
Obľúbené z iného súdka
---
O tomto obchode




Nákupný poradca
Prehľady
---
Osobný odber Bratislava, Banská Bystrica, Košice, Žilina a 947 dalších
Pri poskytovaní služieb nám pomáhajú súbory cookies. Používaním našich služieb vyjadrujete súhlas ich užívaním. Viac informácií
---
Sme tu pre vás ako obvykle. Zákaznícka podpora a doručenie zásielok bez obmedzenia.

Nákupný košík ( prázdny )
---