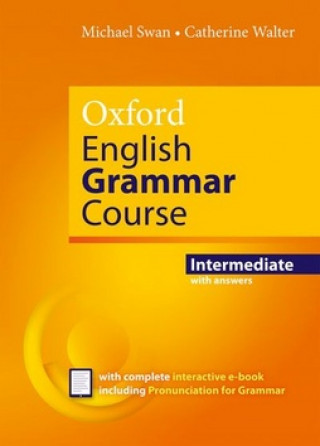 Kód: 22520285
Oxford English Grammar Course Intermediate with Key (includes e-book)
A three-level grammar course by award-winning authors Michael Swan and Catherine Walter which offers step-by-step presentation and plenty of practice. Interactive e-books feature "Pronunciation for Grammar", a unique resource to p ... celý popis
22.73 €
Bežne: 25.83 €
Ušetríte 3.10 €

Skladom u dodávateľa
Odosielame do 4 dní
Pridať medzi želanie
Mohlo by sa vám tiež páčiť
Darčekový poukaz: Radosť zaručená
Darujte poukaz v ľubovoľnej hodnote, a my sa postaráme o zvyšok.
Poukaz sa vzťahuje na všetky produkty v našej ponuke.
Elektronický poukaz si vytlačíte z e-mailu a môžete ho ihneď darovať.
Platnosť poukazu je 12 mesiacov od dátumu vystavenia.
Viac informácií o knihe Oxford English Grammar Course Intermediate with Key (includes e-book)
Nákupom získate 56 bodov
Anotácia knihy
A three-level grammar course by award-winning authors Michael Swan and Catherine Walter which offers step-by-step presentation and plenty of practice. Interactive e-books feature "Pronunciation for Grammar", a unique resource to practise understanding natural speech, and to improve rhythm, stress and intonation.
Oxford English Grammar Course Basic and Intermediate are revisions and expansions of the highly successful Good Grammar Book and How English Works, respectively. The Advanced level includes "grammar beyond the sentence" for understanding and producing longer texts and exchanges. The course will enable advanced level students to benefit from Practical English Usage, 4th edition.
Parametre knihy
Zaradenie knihy Jazykové učebnice Angličtina Nezařazeno
Celý názov: Oxford English Grammar Course Intermediate with Key (includes e-book)
Autor: Michael Swan, Catherine Walter
Jazyk: Angličtina
Väzba: Brožovaná
Počet strán: 400
EAN: 9780194414876
ID: 22520285
Nakladateľ: Oxford University Press
Hmotnosť: 833 g
Rozmery: 265 × 191 × 21 mm
Rok vydania: 2019
Obľúbené z iného súdka
---
O tomto obchode




Nákupný poradca
Prehľady
Knihy podľa jazyka
---
---
Všetky knihy sveta na jednom mieste. Navyše za skvelé ceny.

Nákupný košík ( prázdny )
---