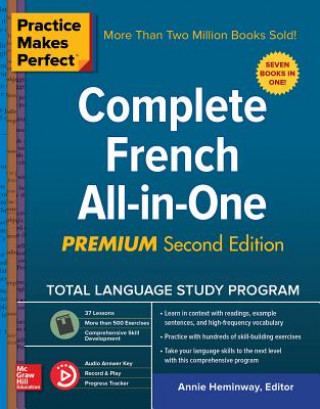 Kód: 20078192
Practice Makes Perfect: Complete French All-in-One, Premium Second Edition
The most comprehensive way to learn French – with seven bestselling books in one! Drawn from seven workbooks from the bestselling Practice Makes Perfect series, this powerhouse volume features all the knowledge and practice you n ... celý popis
29.43 €
Bežne: 37.74 €
Ušetríte 8.30 €

Skladom u dodávateľa
Odosielame za 3 - 5 dní
Pridať medzi želanie
Mohlo by sa vám tiež páčiť
Darčekový poukaz: Radosť zaručená
Darujte poukaz v ľubovoľnej hodnote, a my sa postaráme o zvyšok.
Poukaz sa vzťahuje na všetky produkty v našej ponuke.
Elektronický poukaz si vytlačíte z e-mailu a môžete ho ihneď darovať.
Platnosť poukazu je 12 mesiacov od dátumu vystavenia.
Viac informácií o knihe Practice Makes Perfect: Complete French All-in-One, Premium Second Edition
Nákupom získate 72 bodov
Anotácia knihy
The most comprehensive way to learn French – with seven bestselling books in one!
Drawn from seven workbooks from the bestselling Practice Makes Perfect series, this powerhouse volume features all the knowledge and practice you need to master French. With Practice Makes Perfect: Complete French All-in-One, you will build your French vocabulary, straighten out your sentences, overcome your fear of verb tenses, master the intricacies of grammar, and much more. This value-packed workbook covers all the facets of French and offers thorough explanations that are reinforced by hundreds of hands-on practice exercises.
You will, or course, get plenty of practice, practice, practice using all your new French skills. Whether you are learning on your own or taking a beginning French class, Practice Makes Perfect: Complete French All-in-One will help you master French in no time at all.
Annie Heminway, editor, teaches grammar, creative writing, translation, African cinema, and classic and Francophone literature at the SCPS of New York University. She is also a translator and an editor for Francophone publishers. In 2006 she was awarded the Chevalier de L'Ordre des Palmes Académiques by the French government in recognition of her work in promoting the study of French.
THE BONUS APP THAT ACCOMPANIES THIS BOOK PROVIDES:
● FLASHCARDS to aid memorization of all vocabulary items
● STREAMING AUDIO for hundreds of exercise answers to model your pronunciation
● PROGRESS TRACKER to assess your progress
Practice Makes Perfect: Complete French All-in-One helps you:
● Learn French vocabulary
● Get a solid grasp on grammar
● Determine when to use different verb tenses
● Master spelling and punctuate rules
● Converse confidently in your new language
● Build correct sentence structures
Parametre knihy
Zaradenie knihy Knihy po anglicky Language Language teaching & learning (other than ELT)
Celý názov: Practice Makes Perfect: Complete French All-in-One, Premium Second Edition
Autor: Annie Heminway
Jazyk: Angličtina
Väzba: Brožovaná
Počet strán: 656
EAN: 9781260121032
ISBN: 1260121038
ID: 20078192 Nakladateľ: McGraw-Hill Education
Hmotnosť: 1022 g
Rozmery: 274 × 201 × 29 mm
Dátum vydania: 16. august 2018
Obľúbené z iného súdka
---
O tomto obchode




Nákupný poradca
Prehľady
Knihy podľa jazyka
---