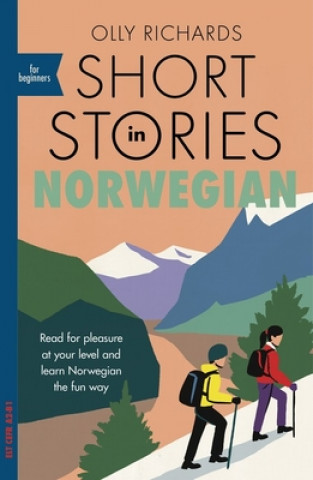 Kód: 24141098
Short Stories in Norwegian for Beginners
Short Stories in Norwegian for Beginners has been written especially for students from high-beginner to low-intermediate level, designed to give a sense of achievement, a feeling of progress and most importantly - enjoyment! Map ... celý popis
14.19 €
Bežne: 16.03 €
Ušetríte 1.84 €

Skladom u dodávateľa
Odosielame za 3 - 5 dní
Pridať medzi želanie
Mohlo by sa vám tiež páčiť
Darujte túto knihu ešte dnes
Objednajte knihu a vyberte Zaslať ako darček.
Obratom obdržíte darovací poukaz na knihu, ktorý môžete ihneď odovzdať obdarovanému.
Knihu zašleme na adresu obdarovaného, o nič sa nestaráte.
Viac informácií o knihe Short Stories in Norwegian for Beginners
Nákupom získate 35 bodov
Anotácia knihy
Short Stories in Norwegian for Beginners has been written especially for students from high-beginner to low-intermediate level, designed to give a sense of achievement, a feeling of progress and most importantly - enjoyment!
Mapped to A2-B1 on the Common European Framework of Reference (CEFR) for languages, these eight captivating stories are designed to give you a sense of achievement and a feeling of progress when reading.
What does this book give you?
- Eight stories in a variety of exciting genres, from science fiction and crime to history and thriller
- making reading fun, while you learn a wide range of new vocabulary
-Controlled language at your level to help you progress confidently
-Authentic spoken dialogues to help you learn conversational expressions and improve your speaking ability
-Accessible grammar so you learn new structures naturally, in a stress-free way
-Pleasure! Research shows that if you're enjoying reading in a foreign language, you won't experience the usual feelings of frustration - 'It's too hard!' 'I don't understand!'
Carefully curated to make learning a new language easy, these stories include key features that will support and consolidate your progress, including:
- A glossary for bolded words in each chapter
- Full plot summary
- A bilingual word list
- Comprehension questions after each chapter.
As a result, you will be able to focus on enjoying reading, delighting in your improved range of vocabulary and grasp of the language, without ever feeling overwhelmed. From science fiction to fantasy, to crime and thrillers, Short Stories in Norwegian for Beginners will make learning Norwegian easy and enjoyable. 
Parametre knihy
Celý názov: Short Stories in Norwegian for Beginners
Autor: Olly Richards
Jazyk: Angličtina
Väzba: Brožovaná
Počet strán: 240
EAN: 9781529302592
ISBN: 1529302595
ID: 24141098 Nakladateľ: Hodder & Stoughton
Hmotnosť: 198 g
Rozmery: 190 × 114 × 16 mm
Dátum vydania: 23. január 2020
---
O tomto obchode




Nákupný poradca
Prehľady
Knihy podľa jazyka
---