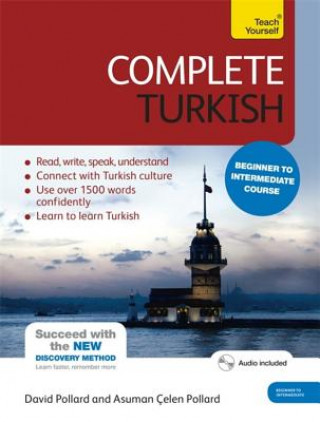 Kód: 04227279
Complete Turkish Beginner to Intermediate Course
Complete Turkish is a comprehensive book and audio language course that takes you from beginner to intermediate level. The new edition of this successful course has been fully revised and is packed with new learning features to gi ... celý popis
42.81 €
Bežne: 48.39 €
Ušetríte 5.58 €

Skladom u dodávateľa v malom množstve
Odosielame za 3 - 5 dní
Potrebujete viac kusov?Ak máte záujem o viac kusov, preverte, prosím, najprv dostupnosť titulu na našej zákazníckej podpore.
Pridať medzi želanie
Mohlo by sa vám tiež páčiť
Darčekový poukaz: Radosť zaručená
Darujte poukaz v ľubovoľnej hodnote, a my sa postaráme o zvyšok.
Poukaz sa vzťahuje na všetky produkty v našej ponuke.
Elektronický poukaz si vytlačíte z e-mailu a môžete ho ihneď darovať.
Platnosť poukazu je 12 mesiacov od dátumu vystavenia.
Viac informácií o knihe Complete Turkish Beginner to Intermediate Course
Nákupom získate 101 bodov
Anotácia knihy
Complete Turkish is a comprehensive book and audio language course that takes you from beginner to intermediate level. The new edition of this successful course has been fully revised and is packed with new learning features to give you the language, practice and skills to communicate with confidence.
-Maps from A1 to B2 of the Common European Framework of Reference (CEFR) for languages -16 learning units plus grammar and word glossaries -Discovery Method - figure out rules and patterns to make the language stick -Teaches the key skills - reading, writing, listening and speaking -Learn to learn - tips and skills on how to be a better language learner -Culture notes - learn about the people and places of Turkey -Outcomes-based learning - focus your studies with clear aims -Authentic listening activities - everyday conversations give you a flavour of real spoken Turkish -Test Yourself - see and track your own progress In this pack you'll get a 224-page book and two CDs of audio learning material (160 minutes). Coming soon: get our companion app. Turkish course: Teach Yourself is full of fun, interactive activities to support your learning with this course. Apple and Android versions available. Also available: Get Started in Beginner's Turkish (ISBN 9781444183207). Rely on Teach Yourself, trusted by language learners for over 70 years.
Parametre knihy
Zaradenie knihy Knihy po anglicky Language Language teaching & learning (other than ELT) Language teaching & learning material & coursework
Celý názov: Complete Turkish Beginner to Intermediate Course
Autor: David Pollard, Asuman Celen Pollard
Jazyk: Angličtina
Väzba: Pevná
Počet strán: 416
EAN: 9781444102390
ISBN: 1444102397
ID: 04227279
Nakladateľ: John Murray Press
Hmotnosť: 810 g
Rozmery: 192 × 246 × 22 mm
Dátum vydania: 27. august 2015
Obľúbené z iného súdka
---
O tomto obchode




Nákupný poradca
Prehľady
Knihy podľa jazyka
---
---
Všetky knihy sveta na jednom mieste. Navyše za skvelé ceny.

Nákupný košík ( prázdny )
---