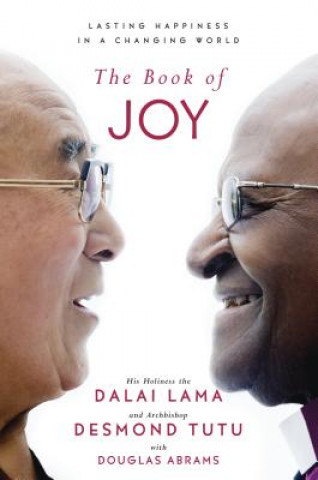 Kód: 10990449
Book of Joy
An instant New York Times bestseller Two spiritual giants. Five days. One timeless question. Nobel Peace Prize Laureates His Holiness the Dalai Lama and Archbishop Desmond Tutu have survived more than fifty years of exile and th ... celý popis

Skladom u dodávateľa
Odosielame za 3 - 5 dní
Pridať medzi želanie
Mohlo by sa vám tiež páčiť
Darujte túto knihu ešte dnes
Objednajte knihu a vyberte Zaslať ako darček.
Obratom obdržíte darovací poukaz na knihu, ktorý môžete ihneď odovzdať obdarovanému.
Knihu zašleme na adresu obdarovaného, o nič sa nestaráte.
Viac informácií o knihe Book of Joy
Nákupom získate 62 bodov
Anotácia knihy
An instant New York Times bestseller Two spiritual giants. Five days. One timeless question. Nobel Peace Prize Laureates His Holiness the Dalai Lama and Archbishop Desmond Tutu have survived more than fifty years of exile and the soul-crushing violence of oppression. Despite their hardships-or, as they would say, because of them-they are two of the most joyful people on the planet. In April 2015, Archbishop Tutu traveled to the Dalai Lama's home in Dharamsala, India, to celebrate His Holiness's eightieth birthday and to create what they hoped would be a gift for others. They looked back on their long lives to answer a single burning question: How do we find joy in the face of life's inevitable suffering? They traded intimate stories, teased each other continually, and shared their spiritual practices. By the end of a week filled with laughter and punctuated with tears, these two global heroes had stared into the abyss and despair of our time and revealed how to live a life brimming with joy. This book offers us a rare opportunity to experience their astonishing and unprecendented week together, from the first embrace to the final good-bye. We get to listen as they explore the Nature of True Joy and confront each of the Obstacles of Joy-from fear, stress, and anger to grief, illness, and death. They then offer us the Eight Pillars of Joy, which provide the foundation for lasting happiness. Throughout, they include stories, wisdom, and science. Finally, they share their daily Joy Practices that anchor their own emotional and spiritual lives. The Archbishop has never claimed sainthood, and the Dalai Lama considers himself a simple monk. In this unique collaboration, they offer us the reflection of real lives filled with pain and turmoil in the midst of which they have been able to discover a level of peace, of courage, and of joy to which we can all aspire in our own lives.
Parametre knihy
Zaradenie knihy Knihy po anglicky Health & personal development Self-help & personal development Popular psychology
Celý názov: Book of Joy
Podnázov: Lasting Happiness in a Changing World
Jazyk: Angličtina
Väzba: Pevná
Počet strán: 384
EAN: 9780399185045
ISBN: 0399185046
ID: 10990449 Nakladateľ: Random House Publishing
Hmotnosť: 514 g
Rozmery: 150 × 217 × 35 mm
Dátum vydania: 20. september 2016
Obľúbené z iného súdka
16.73 €
10.91 € -9 %
18.31 € -2 %
11.23 € -7 %
11.06 € -8 %
13.17 € -22 %
20.36 € -6 %
13.77 € -18 %
10.81 € -25 %
10.66 € -26 %
15.55 € -17 %
15.05 € -20 %
7.48 € -26 %
8.43 € -24 %
13.70 € -3 %
14.63 €
16.65 €
10.60 € -26 %
15.07 € -15 %
15.80 € -26 %
11.53 €
---
O tomto obchode




Nákupný poradca
Prehľady
Knihy podľa jazyka
---
---
Sme tu pre vás ako obvykle. Zákaznícka podpora a doručenie zásielok bez obmedzenia.

Nákupný košík ( prázdny )
---