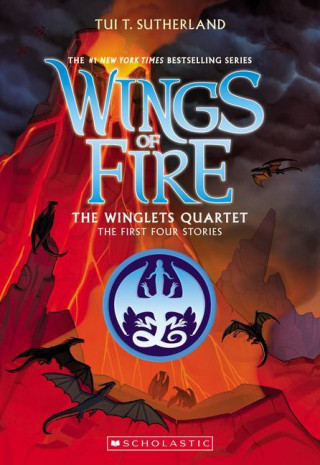 Kód: 33025946
The Winglets Quartet (the First Four Stories)
Discover the first four dragon-bite-sized Winglets stories from the #1 New York Times bestselling Wings of Fire series, now newly available together! Everyone knows the stories. . . but does anyone know the truth?Fierceteeth, a N ... celý popis
8.24 €
Bežne: 9.93 €
Dodáme do Vianoc

Skladom u dodávateľa
Odosielame za 3 - 5 dní
Pridať medzi želanie
Mohlo by sa vám tiež páčiť
Darujte túto knihu ešte dnes
Objednajte knihu a vyberte Zaslať ako darček.
Obratom obdržíte darovací poukaz na knihu, ktorý môžete ihneď odovzdať obdarovanému.
Knihu zašleme na adresu obdarovaného, o nič sa nestaráte.
Viac informácií o knihe The Winglets Quartet (the First Four Stories)
Nákupom získate 20 bodov
Anotácia knihy
Discover the first four dragon-bite-sized Winglets stories from the #1 New York Times bestselling Wings of Fire series, now newly available together!
Everyone knows the stories. . . but does anyone know the truth?Fierceteeth, a NightWing obsessed with what could have -- and should have -- been. Deathbringer, desperate to prove himself as the next great NightWing assassin. Six-Claws, a loyal SandWing, who will soon find that loyalty comes with a price. Foeslayer the NightWing, a dragon in love turned kidnapper, and Prince Arctic of the IceWings, a runaway turned captive.In these four short stories, dig deeper into the world of Pyrrhia to discover what really happened.
Parametre knihy
Celý názov: The Winglets Quartet (the First Four Stories)
Autor: Tui T. Sutherland
Edícia: Wings of Fire, wings-of-fire
Jazyk: Angličtina
Väzba: Brožovaná
Počet strán: 208
EAN: 9781338732399
ISBN: 1338732390
ID: 33025946
Nakladateľ: Scholastic
Hmotnosť: 136 g
Rozmery: 193 × 134 × 15 mm
Dátum vydania: 06. október 2020
Obľúbené z iného súdka
---
O tomto obchode




Nákupný poradca
Prehľady
Knihy podľa jazyka
---
---
Všetky knihy sveta na jednom mieste. Navyše za skvelé ceny.

Nákupný košík ( prázdny )
---