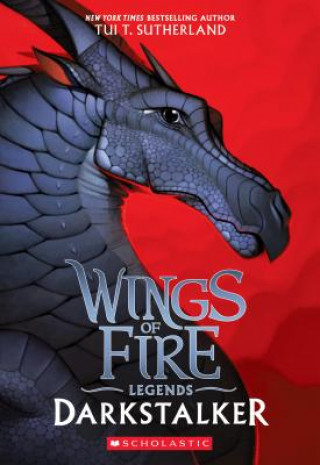 Kód: 16120704
Darkstalker
The first-ever special edition of the New York Times bestselling Wings of Fire series soars back in time to the origin of Pyrrhia's most dangerous dragon: Darkstalker. Three dragons. One unavoidable, unpredictable destiny. This i ... celý popis
9.23 €
Bežne: 10.85 €
Dodáme do Vianoc

Skladom u dodávateľa
Odosielame za 3 - 5 dní
Pridať medzi želanie
Mohlo by sa vám tiež páčiť
10.65 €
40.44 € -15 %
7.44 € -17 %
35.83 € -10 %
8.22 € -17 %
8.57 € -20 %
9.28 € -6 %
16.81 € -11 %
8.88 € -19 %
9.17 € -7 %
10.65 € -1 %
12.65 € -21 %
9.16 € -7 %
11.55 € -2 %
8.88 € -19 %
14.35 € -1 %
10.53 € -19 %
12.58 € -14 %
9.30 € -6 %
8.57 € -20 %
Darujte túto knihu ešte dnes
Objednajte knihu a vyberte Zaslať ako darček.
Obratom obdržíte darovací poukaz na knihu, ktorý môžete ihneď odovzdať obdarovanému.
Knihu zašleme na adresu obdarovaného, o nič sa nestaráte.
Viac informácií o knihe Darkstalker
Nákupom získate 22 bodov
Anotácia knihy
The first-ever special edition of the New York Times bestselling Wings of Fire series soars back in time to the origin of Pyrrhia's most dangerous dragon: Darkstalker.

Three dragons. One unavoidable, unpredictable destiny. This is the beginning... of the end.
In the SeaWing kingdom, a young prince learns he is an animus -- capable of wonderful magic that comes with a terrible price.In the mind of a NightWing dragonet, a thousand futures unfold -- and almost all of them, she knows, lead to disaster and destruction.
And under three full moons and the watchful eyes of his NightWing mother and IceWing father, the most powerful dragon Pyrhhia will ever know is clawing his way out of his egg. Darkstalker, the dragon who will change the world forever.Long before the SandWing war, lifetimes before the Dragonet Prophecy... darkness is born.
Parametre knihy
Zaradenie knihy Knihy po anglicky Children's, Teenage & educational Children's / Teenage fiction & true stories Science fiction (Children's / Teenage)
Celý názov: Darkstalker
Podnázov: (Wings of Fire: Legends)
Autor: Tui T. Sutherland
Edícia: Wings of Fire, wings-of-fire
Jazyk: Angličtina
Väzba: Brožovaná
Počet strán: 400
EAN: 9781338053623
ISBN: 1338053620
ID: 16120704 Nakladateľ: Scholastic
Hmotnosť: 248 g
Rozmery: 134 × 194 × 30 mm
Dátum vydania: 28. november 2017
Obľúbené z iného súdka
---
O tomto obchode




Nákupný poradca
Prehľady
Knihy podľa jazyka
---
---
Všetky knihy sveta na jednom mieste. Navyše za skvelé ceny.

Nákupný košík ( prázdny )
---