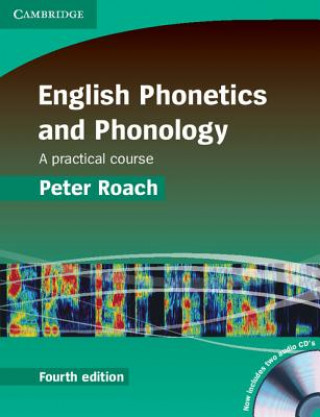 Kód: 04094621
English Phonetics and Phonology Paperback with Audio CDs (2)
Since the publication of the first edition in 1983, this course has established itself as the most practical, comprehensive text in the field and become widely used in many parts of the world in universities and other institutions ... celý popis
Dostupnosť:
50 % šanca

Máme informáciu, že by titul mohol byť dostupný. Na základe vašej objednávky sa ho pokúsime do 6 týždňov zabezpečiť.
Prehľadáme celý svet
Pridať medzi želanie
Mohlo by sa vám tiež páčiť
Darčekový poukaz: Radosť zaručená
Darujte poukaz v ľubovoľnej hodnote, a my sa postaráme o zvyšok.
Poukaz sa vzťahuje na všetky produkty v našej ponuke.
Elektronický poukaz si vytlačíte z e-mailu a môžete ho ihneď darovať.
Platnosť poukazu je 12 mesiacov od dátumu vystavenia.
Informovať o naskladnení knihy
Zašleme vám správu akonáhle knihu naskladníme
Zadajte do formulára e-mailovú adresu a akonáhle knihu naskladníme, zašleme vám o tom správu. Postrážime všetko za vás.
Viac informácií o knihe English Phonetics and Phonology Paperback with Audio CDs (2)
Nákupom získate 127 bodov
Anotácia knihy
Since the publication of the first edition in 1983, this course has established itself as the most practical, comprehensive text in the field and become widely used in many parts of the world in universities and other institutions of higher education. This new edition takes into account recent developments in the teaching of phonology. It includes updated references, fuller coverage of intonation, and a new chapter on different varieties of English with illustrative recorded material. At the end of each chapter in the book there are notes giving information on further reading, discussion of the more challenging issues, written exercises and, where appropriate, suggestions for teachers. In addition the audio CDs include recorded exercises for every chapter which are particularly helpful for non-native speakers. A full answer key is available at the back of the book. Additional exercises and other supporting material are available online.
Parametre knihy
Zaradenie knihy Knihy po anglicky English language teaching (ELT) ELT background & reference material ELT: teaching theory & methods
Celý názov: English Phonetics and Phonology Paperback with Audio CDs (2)
Autor: Peter J. Roach
Jazyk: Angličtina
Väzba: Brožovaná
Počet strán: 242
EAN: 9780521717403
ISBN: 052171740X
ID: 04094621 Nakladateľ: Cambridge University Press
Hmotnosť: 532 g
Rozmery: 245 × 189 × 12 mm
Dátum vydania: 26. marec 2009
Obľúbené z iného súdka
---
O tomto obchode




Nákupný poradca
Prehľady
---
Osobný odber Bratislava, Banská Bystrica, Košice, Žilina a 890 dalších
Pri poskytovaní služieb nám pomáhajú súbory cookies. Používaním našich služieb vyjadrujete súhlas ich užívaním. Viac informácií
---
Sme tu pre vás ako obvykle. Zákaznícka podpora a doručenie zásielok bez obmedzenia.

Nákupný košík ( prázdny )
---