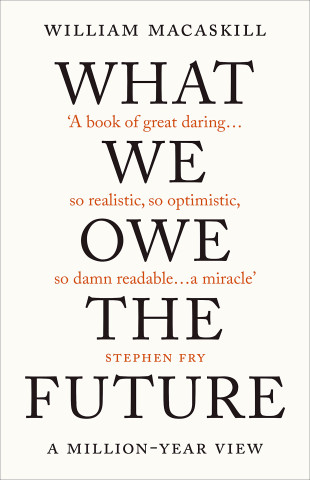 Kód: 38990008
What We Owe The Future
'A monumental event. William MacAskill is one of the most important philosophers alive today, and this is his magnum opus.' Rutger Bregman, author of Humankind 'A book of great daring, clarity, insight and imagination. To be simu ... celý popis
23.46 €
Bežne: 29.88 €
Ušetríte 6.42 €

Skladom u dodávateľa
Odosielame za 3 - 5 dní
Pridať medzi želanie
Mohlo by sa vám tiež páčiť
Darčekový poukaz: Radosť zaručená
Darujte poukaz v ľubovoľnej hodnote, a my sa postaráme o zvyšok.
Poukaz sa vzťahuje na všetky produkty v našej ponuke.
Elektronický poukaz si vytlačíte z e-mailu a môžete ho ihneď darovať.
Platnosť poukazu je 12 mesiacov od dátumu vystavenia.
Viac informácií o knihe What We Owe The Future
Nákupom získate 56 bodov
Anotácia knihy
'A monumental event. William MacAskill is one of the most important philosophers alive today, and this is his magnum opus.' Rutger Bregman, author of Humankind
'A book of great daring, clarity, insight and imagination. To be simultaneously so realistic and so optimistic, and always so damned readable...well that is a miracle for which he should be greatly applauded.' Stephen Fry
Humanity is in its infancy. Our future could last for millions of years - or it could end tomorrow. Astonishing numbers of people could lead lives of great happiness or unimaginable suffering, or never live at all, depending on what we choose to do today.
As we approach a critical juncture in our history, we can make profound moral decisions about how humanity's course plays out. We can create positive change on behalf of future generations, to prevent the use of catastrophic weapons and maintain peace between the world's great powers. We can improve our moral values, navigating the rise of AI and climate change more fairly for generations to come.
The challenges we face are enormous. But so is the influence we have. If we choose wisely, our distant descendants will look back on us fondly, knowing we did everything we could to give them a world that is beautiful and just.
Parametre knihy
Zaradenie knihy Knihy po nemecky Geisteswissenschaften, Kunst, Musik Philosophie Antike
Celý názov: What We Owe The Future
Podnázov: A Million-Year View
Autor: William MacAskill
Jazyk: Angličtina
Väzba: Pevná
Počet strán: 352
EAN: 9780861542505
ISBN: 0861542509
ID: 38990008 Nakladateľ: Oneworld Publications
Hmotnosť: 562 g
Rozmery: 163 × 241 × 35 mm
Dátum vydania: 01. september 2022
Obľúbené z iného súdka
---
O tomto obchode




Nákupný poradca
Prehľady
Knihy podľa jazyka
---