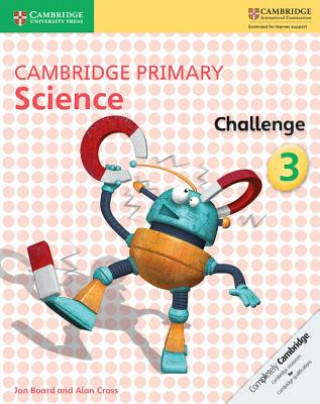 Kód: 02896116
Cambridge Primary Science Challenge 3
The Challenge and Skills Builders are differentiated activity books to be used alongside the Cambridge Primary Science course. Cambridge Primary Science is a flexible and engaging course written specifically for the Cambridge Pri ... celý popis

Skladom u dodávateľa
Odosielame za 7 - 12 dní
Pridať medzi želanie
Mohlo by sa vám tiež páčiť
Darčekový poukaz: Radosť zaručená
Darujte poukaz v ľubovoľnej hodnote, a my sa postaráme o zvyšok.
Poukaz sa vzťahuje na všetky produkty v našej ponuke.
Elektronický poukaz si vytlačíte z e-mailu a môžete ho ihneď darovať.
Platnosť poukazu je 12 mesiacov od dátumu vystavenia.
Viac informácií o knihe Cambridge Primary Science Challenge 3
Nákupom získate 24 bodov
Anotácia knihy
The Challenge and Skills Builders are differentiated activity books to be used alongside the Cambridge Primary Science course. Cambridge Primary Science is a flexible and engaging course written specifically for the Cambridge Primary Science Curriculum Stages 1 to 6. The course uses an enquiry-led approach focussed on making pupils think and work scientifically. The Challenge Activity Books provide extension activities for children who need more challenging activities to stretch their skills beyond the standard for success expected in Primary school. They include a full range of carefully levelled activities which help stretch and deepen a child's understanding, plus helpful guidance for explaining to the learner, teacher or parent the key scientific methods and concepts underpinning each exercise.
Parametre knihy
Zaradenie knihy Knihy po anglicky Children's, Teenage & educational Educational material Educational: Sciences, general science
Celý názov: Cambridge Primary Science Challenge 3
Autor: Jon Board, Alan Cross
Jazyk: Angličtina
Väzba: Brožovaná
Počet strán: 60
EAN: 9781316611173
ISBN: 1316611175
ID: 02896116 Nakladateľ: Cambridge University Press
Hmotnosť: 176 g
Rozmery: 222 × 276 × 9 mm
Dátum vydania: 03. marec 2016
Obľúbené z iného súdka
---
O tomto obchode




Nákupný poradca
Prehľady
---
Osobný odber Bratislava, Banská Bystrica, Košice, Žilina a 1129 dalších
Pri poskytovaní služieb nám pomáhajú súbory cookies. Používaním našich služieb vyjadrujete súhlas ich užívaním. Viac informácií
---
Sme tu pre vás ako obvykle. Zákaznícka podpora a doručenie zásielok bez obmedzenia.

Nákupný košík ( prázdny )
---