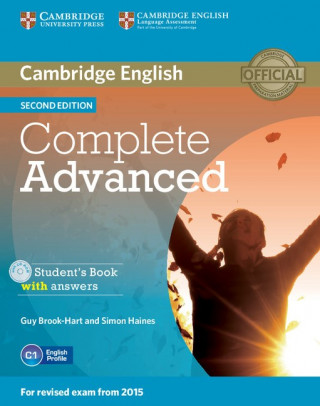 Kód: 02394223
Cambridge English Complete Advanced Student's Book with answers Second edition
Complete Advanced provides thorough preparation for the revised 2015 Cambridge English: Advanced (CAE) exam. It combines the very best in contemporary classroom practice with first-hand knowledge of the challenges students face. T ... celý popis
29.29 €
Bežne: 34.66 €
Dodáme do Vianoc

Skladom u dodávateľa
Odosielame do 4 dní
Pridať medzi želanie
Mohlo by sa vám tiež páčiť
8.13 € -19 %
23.27 € -9 %
21.75 €
11.76 € -13 %
13.57 € -2 %
28.74 € -7 %
28.43 € -13 %
32.68 € -3 %
Darčekový poukaz: Radosť zaručená
Darujte poukaz v ľubovoľnej hodnote, a my sa postaráme o zvyšok.
Poukaz sa vzťahuje na všetky produkty v našej ponuke.
Elektronický poukaz si vytlačíte z e-mailu a môžete ho ihneď darovať.
Platnosť poukazu je 12 mesiacov od dátumu vystavenia.
Viac informácií o knihe Cambridge English Complete Advanced Student's Book with answers Second edition
Nákupom získate 71 bodov
Anotácia knihy
Complete Advanced provides thorough preparation for the revised 2015 Cambridge English: Advanced (CAE) exam. It combines the very best in contemporary classroom practice with first-hand knowledge of the challenges students face. This course provides comprehensive language development integrated with exam-task familiarisation. There are exercises to help students avoid repeating the typical mistakes that real exam candidates make, as revealed by the Cambridge Learner Corpus. This topic-based course covers every part of Cambridge English: Advanced in detail, ensuring that students are fully equipped to tackle each part of every paper. Exam information and Exam advice is offered throughout, culminating in Exam round-up sections which check that candidates know how to approach each paper. The accompanying CD-ROM enables students to focus on their own particular areas of difficulty and work at their own pace.
Parametre knihy
Zaradenie knihy Knihy po polsky Nauki społeczne, humanistyczne, ekonomiczne Językoznawstwo Poszczególne języki
Celý názov: Cambridge English Complete Advanced Student's Book with answers Second edition
Autor: Guy Brook-Hart, Simon Haines
Jazyk: Angličtina
Väzba: Brožovaná
Počet strán: 256
EAN: 9781107670907
ISBN: 110767090X
ID: 02394223 Nakladateľ: Cambridge University Press
Hmotnosť: 668 g
Rozmery: 276 × 219 × 14 mm
Rok vydania: 2014
Obľúbené z iného súdka
---
O tomto obchode




Nákupný poradca
Prehľady
Knihy podľa jazyka
---
---
Všetky knihy sveta na jednom mieste. Navyše za skvelé ceny.

Nákupný košík ( prázdny )
---