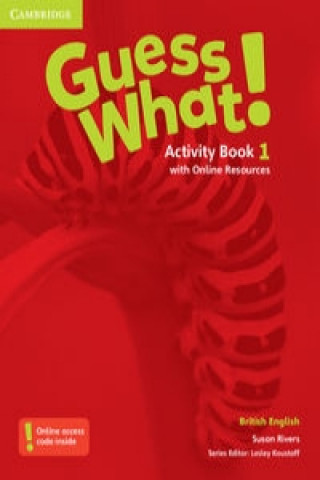 Kód: 09491529
Guess What! Level 1 Activity Book with Online Resources British English
Beautiful world photography, captivating real-life video and interest-grabbing CLIL topics take young learners on a remarkable journey to explore the world as they learn English. Are you ready to explore? Why do whales jump out of ... celý popis
9.22 €
Bežne: 10.48 €
Ušetríte 1.26 €

Skladom u dodávateľa
Odosielame za 3 - 6 dní
Pridať medzi želanie
Mohlo by sa vám tiež páčiť
Darčekový poukaz: Radosť zaručená
Darujte poukaz v ľubovoľnej hodnote, a my sa postaráme o zvyšok.
Poukaz sa vzťahuje na všetky produkty v našej ponuke.
Elektronický poukaz si vytlačíte z e-mailu a môžete ho ihneď darovať.
Platnosť poukazu je 12 mesiacov od dátumu vystavenia.
Viac informácií o knihe Guess What! Level 1 Activity Book with Online Resources British English
Nákupom získate 25 bodov
Anotácia knihy
Beautiful world photography, captivating real-life video and interest-grabbing CLIL topics take young learners on a remarkable journey to explore the world as they learn English. Are you ready to explore? Why do whales jump out of water? What makes our bodies move? Guess What! is a six-level course that invites children to explore the world through engaging facts, amazing photography and captivating video. The full-colour Activity Book Level 1 provides further consolidation of all the language and topics presented in the Pupil's Book. Learners can keep a record of their learning with Evaluation sections and improve vocabulary with a full-colour Picture dictionary. Additional online practice with automated marking and progress tracking tools in the Cambridge Learning Management System help teachers monitor learners' progress.
Parametre knihy
Zaradenie knihy Knihy po polsky Nauki społeczne, humanistyczne, ekonomiczne Językoznawstwo Poszczególne języki
Na knihu zľava pre
ISIC/ITIC držiteľov
9.22 €
Celý názov: Guess What! Level 1 Activity Book with Online Resources British English
Autor: Susan Rivers
Jazyk: Angličtina
Väzba: Pevná
Počet strán: 95
EAN: 9781107526952
ISBN: 1107526957
ID: 09491529 Nakladateľ: Cambridge University Press
Hmotnosť: 336 g
Rozmery: 223 × 276 × 6 mm
Dátum vydania: 27. august 2015
Obľúbené z iného súdka
26.48 € -13 %
30.95 € -3 %
15.45 € -12 %
10.87 € -10 %
8.99 € -13 %
40.69 € -2 %
13.51 €
22.15 € -13 %
21.84 € -2 %
22.79 € -12 %
---
O tomto obchode




Nákupný poradca
Prehľady
---
Osobný odber Bratislava, Banská Bystrica, Košice, Žilina a 946 dalších
Pri poskytovaní služieb nám pomáhajú súbory cookies. Používaním našich služieb vyjadrujete súhlas ich užívaním. Viac informácií
---
Sme tu pre vás ako obvykle. Zákaznícka podpora a doručenie zásielok bez obmedzenia.

Nákupný košík ( prázdny )
---