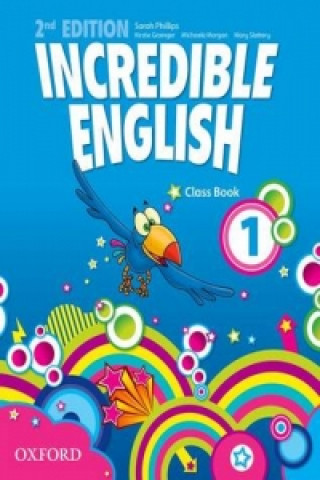 Kód: 01172767
Incredible English: 1: Class Book
This great new introduction to the 6-level Incredible English series is a completely wordless course book. The course supports an aural-oral introduction to English, for children who are not yet ready to start reading and writing ... celý popis
15.52 €
Bežne: 16 €
Ušetríte 0.48 €

Skladom u dodávateľa
Odosielame do 4 dní
Pridať medzi želanie
Mohlo by sa vám tiež páčiť
Darčekový poukaz: Radosť zaručená
Darujte poukaz v ľubovoľnej hodnote, a my sa postaráme o zvyšok.
Poukaz sa vzťahuje na všetky produkty v našej ponuke.
Elektronický poukaz si vytlačíte z e-mailu a môžete ho ihneď darovať.
Platnosť poukazu je 12 mesiacov od dátumu vystavenia.
Viac informácií o knihe Incredible English: 1: Class Book
Nákupom získate 38 bodov
Anotácia knihy
This great new introduction to the 6-level Incredible English series is a completely wordless course book. The course supports an aural-oral introduction to English, for children who are not yet ready to start reading and writing in English. With 60 hours of material, Incredible English Starter aims to bridge the gap between pre-school and primary school and develops their understanding of the world and social skills along with their English language learning. Key Features: 60 hours of material; 10 lessons in six units with topics familiar to children of this age. Resources perfectly suited to young learners: an easy-to-manage combined Class Book and Activity Book and re-useable stickers Vocabulary and structures are presented and practised using catchy songs and chants. Well-loved Incredible English characters feature in lively stories designed to engage the children and encourage a response, building confidence with the language. Variety of activities to suit different learning styles ? action games, observation games, sequencing, self-assessment The CLIL approach helps learners explore some of their first experiences of English through other subjects - Art, Biology and Maths Assessment is supported in the test section and with photocopiable record cards. About the Author Sarah Phillips trained as an English language teacher at the Bell School, Norwich, and took her MA in English Language Teaching at Edinburgh University. She has held various teaching posts in Europe and has taught on primary teacher training courses with Norwich Institute of Language Education. She has worked with the Regional Government of Galicia to prepare training courses and materials for teachers of English.
Parametre knihy
Zaradenie knihy Knihy po anglicky English language teaching (ELT) ELT: learning material & coursework
Celý názov: Incredible English: 1: Class Book
Autor: S. Philips
Jazyk: Angličtina
Väzba: Brožovaná
Počet strán: 96
EAN: 9780194442282
ISBN: 0194442284
ID: 01172767 Nakladateľ: OUP English Learning and Teaching
Hmotnosť: 268 g
Rozmery: 275 × 220 × 5 mm
Rok vydania: 2012
Obľúbené z iného súdka
19.50 € -4 %
28.82 € -13 %
21.35 €
30.85 € -4 %
15.14 € -6 %
25.58 € -6 %
36.71 €
22.12 € -15 %
17.61 €
17.88 €
8.64 € -1 %
---
O tomto obchode




Nákupný poradca
Prehľady
Knihy podľa jazyka
---
---
Sme tu pre vás ako obvykle. Zákaznícka podpora a doručenie zásielok bez obmedzenia.

Nákupný košík ( prázdny )
---