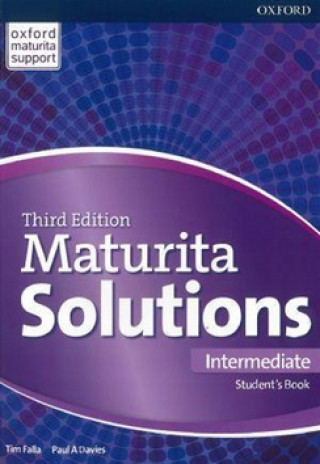 Kód: 16293771
Maturita Solutions 3rd Edition Intermediate Student's Book
With 100% new content, the third edition of Oxford's best-selling secondary course offers the tried and trusted Solutions methodology alongside fresh and diverse material that will spark your students' interest and drive them to s ... celý popis
22.29 €
Bežne: 24.89 €
Ušetríte 2.60 €

Skladom u dodávateľa
Odosielame do 4 dní
Pridať medzi želanie
Mohlo by sa vám tiež páčiť
Darčekový poukaz: Radosť zaručená
Darujte poukaz v ľubovoľnej hodnote, a my sa postaráme o zvyšok.
Poukaz sa vzťahuje na všetky produkty v našej ponuke.
Elektronický poukaz si vytlačíte z e-mailu a môžete ho ihneď darovať.
Platnosť poukazu je 12 mesiacov od dátumu vystavenia.
Viac informácií o knihe Maturita Solutions 3rd Edition Intermediate Student's Book
Nákupom získate 54 bodov
Anotácia knihy
With 100% new content, the third edition of Oxford's best-selling secondary course offers the tried and trusted Solutions methodology alongside fresh and diverse material that will spark your students' interest and drive them to succeed.
The Solutions Student's Book is packed full of interesting content to keep students of all abilities fully engaged and motivated. Each unit consists of eight lessons, all of which focus on a particular skill, including vocabulary, grammar, reading, speaking, and writing. New to the third edition are specific listening and word skills lessons, to help develop well-rounded, confident communicators. Additional resources, including exam skills trainer sections and extra speaking practice help consolidate what students have covered in the lessons.
The supported approach to speaking, writing and exam practice ensure every student can achieve success.
Parametre knihy
Zaradenie knihy Jazykové učebnice Angličtina Nezařazeno
Celý názov: Maturita Solutions 3rd Edition Intermediate Student's Book
Autor: Tim Falla, Paul A. Davies
Jazyk: Angličtina
Väzba: Brožovaná
Počet strán: 141
EAN: 9780194504515
ISBN: 978-0-19-450451-5
ID: 16293771
Nakladateľ: Oxford University Press
Hmotnosť: 390 g
Rozmery: 350 × 300 × 10 mm
Dátum vydania: 17. júl 2017
Obľúbené z iného súdka
---
O tomto obchode




Nákupný poradca
Prehľady
Knihy podľa jazyka
---
---
Všetky knihy sveta na jednom mieste. Navyše za skvelé ceny.

Nákupný košík ( prázdny )
---