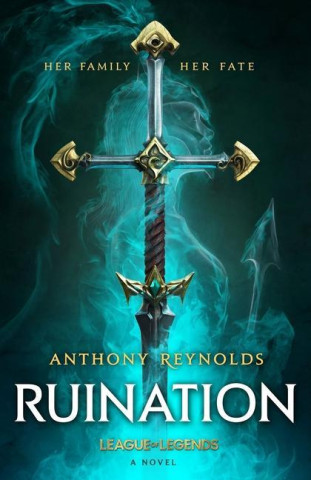 Kód: 38794101
Ruination: A League of Legends Novel
Discover an epic tale of magic, revenge, and an empire on the verge of ruin in the first ever novel set in the blockbuster universe of League of Legends. Camavor is a brutal land with a bloody legacy. Where the empire's knights g ... celý popis
24.70 €
Bežne: 29.76 €
Ušetríte 5.06 €

Skladom u dodávateľa
Odosielame za 3 - 5 dní
Pridať medzi želanie
Mohlo by sa vám tiež páčiť
Darčekový poukaz: Radosť zaručená
Darujte poukaz v ľubovoľnej hodnote, a my sa postaráme o zvyšok.
Poukaz sa vzťahuje na všetky produkty v našej ponuke.
Elektronický poukaz si vytlačíte z e-mailu a môžete ho ihneď darovať.
Platnosť poukazu je 12 mesiacov od dátumu vystavenia.
Viac informácií o knihe Ruination: A League of Legends Novel
Nákupom získate 59 bodov
Anotácia knihy
Discover an epic tale of magic, revenge, and an empire on the verge of ruin in the first ever novel set in the blockbuster universe of League of Legends.
Camavor is a brutal land with a bloody legacy. Where the empire's knights go, slaughter follows. 
 
Kalista seeks to change that. When her young and narcissistic uncle, Viego, becomes king, she vows to temper his destructive instincts, as his loyal confidant, advisor, and military general. But her plans are thwarted when an assassin's poisoned blade strikes Viego's wife, Isolde, afflicting her with a malady for which there is no cure. 
 
As Isolde's condition worsens, Viego descends into madness and grief, threatening to drag Camavor down with him. Kalista makes a desperate gambit to save the kingdom: she searches for the long lost Blessed Isles, rumored to hold the queen's salvation, if only Kalista can find them.
 
But corruption grows in the Blessed Isles' capital, where a vengeful warden seeks to ensnare Kalista in his cruel machinations. She will be forced to choose between her loyalty to Viego and doing what she knows is right--for even in the face of utter darkness, one noble act can shine a light that saves the world.
Parametre knihy
Zaradenie knihy Knihy po nemecky Belletristik Science Fiction, Fantasy
Celý názov: Ruination: A League of Legends Novel
Autor: Anthony Reynolds
Jazyk: Angličtina
Väzba: Pevná
Počet strán: 448
EAN: 9780316469050
ISBN: 031646905X
ID: 38794101 Nakladateľ: Orbit
Hmotnosť: 862 g
Rozmery: 242 × 161 × 32 mm
Dátum vydania: 06. september 2022
Obľúbené z iného súdka
---
O tomto obchode




Nákupný poradca
Prehľady
Knihy podľa jazyka
---