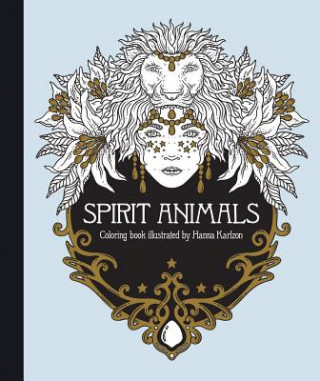 Kód: 21235614
Spirit Animals Coloring Book
The sixth coloring book from Sweden's coloring book sensation, Hanna Karlzon. Hanna Karlzon's newest coloring book, translating directly from the Swedish Själsfränder as "Soul Mates" or "Kindred Spirits," is a whimsical collectio ... celý popis
12.68 €
Bežne: 16.15 €
Ušetríte 3.47 €

Skladom u dodávateľa
Odosielame za 3 - 5 dní
Pridať medzi želanie
Mohlo by sa vám tiež páčiť
Darčekový poukaz: Radosť zaručená
Darujte poukaz v ľubovoľnej hodnote, a my sa postaráme o zvyšok.
Poukaz sa vzťahuje na všetky produkty v našej ponuke.
Elektronický poukaz si vytlačíte z e-mailu a môžete ho ihneď darovať.
Platnosť poukazu je 12 mesiacov od dátumu vystavenia.
Viac informácií o knihe Spirit Animals Coloring Book
Nákupom získate 30 bodov
Anotácia knihy
The sixth coloring book from Sweden's coloring book sensation, Hanna Karlzon.
Hanna Karlzon's newest coloring book, translating directly from the Swedish Själsfränder as "Soul Mates" or "Kindred Spirits," is a whimsical collection of stunning portraits. Each spread features a person and an animal who share a connection; coloring book enthusiasts will love her hybrid approach to portraiture and wildlife. Drawn in Hanna's highly regarded detailed style, this hardbound coloring book of 96 pages pairs perfectly with her previous bestsellers.
Hanna Karlzon has an art teaching degree from Umeå University, and has run her own business as a freelance designer since 2013. Her coloring book series includes Daydreams. Summer Nights, Magical Dawn, Seasons, Jewelry Box, and her most recent Spirit Animals. She lives in Umeå, Sweden.
Parametre knihy
Zaradenie knihy Knihy po anglicky Lifestyle, sport & leisure Handicrafts, decorative arts & crafts
Celý názov: Spirit Animals Coloring Book
Autor: Hanna Karlzon
Jazyk: Angličtina
Väzba: Pevná
Počet strán: 96
EAN: 9781423652793
ISBN: 1423652797
ID: 21235614
Nakladateľ: Gibbs M. Smith Inc
Hmotnosť: 610 g
Rozmery: 252 × 219 × 16 mm
Dátum vydania: 13. august 2019
Obľúbené z iného súdka
---
O tomto obchode




Nákupný poradca
Prehľady
Knihy podľa jazyka
---