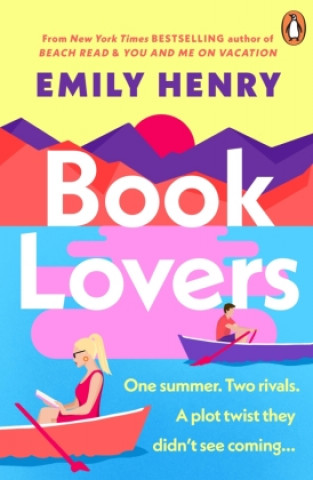 Kód: 37024021
Book Lovers
'This may be her best yet' TAYLOR JENKINS REID, author of Malibu Rising 'Sexy, funny, and smart' EMMA STRAUB, author of All Adults Here 'Book Lovers is Schitt's Creek for book nerds' CASEY MCQUISTON, author of One Last Stop One ... celý popis
9.42 €
Bežne: 11.79 €
Ušetríte 2.38 €

Skladom u dodávateľa
Odosielame za 3 - 5 dní
Pridať medzi želanie
Mohlo by sa vám tiež páčiť
Darčekový poukaz: Radosť zaručená
Darujte poukaz v ľubovoľnej hodnote, a my sa postaráme o zvyšok.
Poukaz sa vzťahuje na všetky produkty v našej ponuke.
Elektronický poukaz si vytlačíte z e-mailu a môžete ho ihneď darovať.
Platnosť poukazu je 12 mesiacov od dátumu vystavenia.
Viac informácií o knihe Book Lovers
Nákupom získate 22 bodov
Anotácia knihy
'This may be her best yet' TAYLOR JENKINS REID, author of Malibu Rising
'Sexy, funny, and smart' EMMA STRAUB, author of All Adults Here
'Book Lovers is Schitt's Creek for book nerds' CASEY MCQUISTON, author of One Last Stop
One summer. Two rivals. A plot twist they didn't see coming...
Nora is a cut-throat literary agent at the top of her game. Her whole life is books. Charlie is an editor with a gift for creating bestsellers. And he's Nora's work nemesis. Nora has been through enough break-ups to know she's the woman men date before they find their happy-ever-after. That's why Nora's sister has persuaded her to swap her desk in the city for a month's holiday in Sunshine Falls, North Carolina. It's a small town straight out of a romance novel, but instead of meeting sexy lumberjacks, handsome doctors or cute bartenders, Nora keeps bumping into...Charlie. She's no heroine. He's no hero. So can they take a page out of an entirely different book? Binge-read The Hating Game and now looking to escape into another suitably steamy love story? Look no further...
Set over one sizzling August, BOOK LOVERS is the new chemistry-filled 'rivals to lovers' romcom from New York Times #1 bestseller Emily Henry 
WHAT PEOPLE ARE SAYING ABOUT EMILY HENRY
'A rom-com lover's dream of a book. Razor-sharp and featuring a fierce heroine who does not apologise for her ambition. A breath of fresh air.' TAYLOR JENKINS REID, author of Malibu Rising
'The hottest book of the summer - the pages simply sizzle!' JOSIE SILVER, author of One Day in December
'Full of sexual tension and tantalizing possibility.' BETH O'LEARY, author of The Roadtrip
'Emily Henry is my newest automatic-buy author . . . a heartfelt, funny, tender escape that you wish could last forever' JODI PICOULT, author of The Book of Two Ways
'I would follow Emily Henry anywhere. A small town, a literary enterprise, a bookstore to rescue, and sex in moonlit streams? Yes, please! Book Lovers is sexy, funny, and smart' EMMA STRAUB, author of All Adults Here
'Charming, earnest, and clever. A total delight for anyone who's ever secretly rooted for the career girl in a Hallmark movie. Nobody does it quite like Emily Henry' CASEY MCQUISTON, author of One Last Stop
'Original, sparkling bright and layered with feeling. If whipcrack banter and sexual tension is your catnip, you'll adore this book' SALLY THORNE, author of The Hating Game
'I could not devour Book Lovers fast enough. Emily Henry is pure delight. I'm utterly enchanted by her wry sense of humour, the relish that she brings to every cleverly crafted sentence, and her irrepressible love for love' Katherine Centre, author of Things You Save in a Fire
Parametre knihy
Zaradenie knihy Knihy po nemecky Belletristik Erzählende Literatur Hauptwerk vor 1945
Celý názov: Book Lovers
Autor: Emily Henry
Jazyk: Angličtina
Väzba: Brožovaná
Počet strán: 384
EAN: 9780241995341
ISBN: 0241995345
ID: 37024021
Nakladateľ: Penguin Books
Hmotnosť: 268 g
Rozmery: 128 × 197 × 31 mm
Dátum vydania: 12. máj 2022
Obľúbené z iného súdka
---
O tomto obchode




Nákupný poradca
Prehľady
Knihy podľa jazyka
---