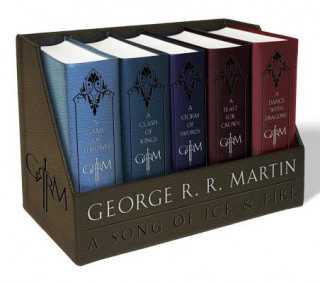 Kód: 09380319
George R. R. Martin's A Game of Thrones Leather-Cloth Boxed Set (Song of Ice and Fire Series)
Perfect for fans of the epic fantasy series that inspired HBO s Game of Thrones a gorgeous boxed set featuring conveniently sized leather-cloth-bound editions of the first five novels! An immersive entertainment experience unlike ... celý popis
73.35 €
Bežne: 88.02 €
Dodáme do Vianoc

Skladom u dodávateľa
Odosielame za 3 - 5 dní
Pridať medzi želanie
Mohlo by sa vám tiež páčiť
Darujte túto knihu ešte dnes
Objednajte knihu a vyberte Zaslať ako darček.
Obratom obdržíte darovací poukaz na knihu, ktorý môžete ihneď odovzdať obdarovanému.
Knihu zašleme na adresu obdarovaného, o nič sa nestaráte.
Viac informácií o knihe George R. R. Martin's A Game of Thrones Leather-Cloth Boxed Set (Song of Ice and Fire Series)
Nákupom získate 178 bodov
Anotácia knihy
Perfect for fans of the epic fantasy series that inspired HBO s Game of Thrones a gorgeous boxed set featuring conveniently sized leather-cloth-bound editions of the first five novels!
 
An immersive entertainment experience unlike any other, A Song of Ice and Fire has earned George R. R. Martin dubbed the American Tolkien by Time magazine international acclaim and millions of loyal readers. Now the monumental saga gets the royal treatment it deserves, with each book wrapped in bound leather-cloth covers and packaged together in an elegant display case.
This one-of-a-kind boxed set includes:
 
A GAME OF THRONES
A CLASH OF KINGS
A STORM OF SWORDS
A FEAST FOR CROWS
A DANCE WITH DRAGONS
 
One of the best series in the history of fantasy. Los Angeles Times
 
Winter is coming. Such is the stern motto of House Stark, the northernmost of the fiefdoms that owe allegiance to King Robert Baratheon in far-off King s Landing. There Eddard Stark of Winterfell rules in Robert s name. There his family dwells in peace and comfort: his proud wife, Catelyn; his sons Robb, Brandon, and Rickon; his daughters Sansa and Arya; and his bastard son, Jon Snow. Far to the north, behind the towering Wall, lie savage Wildings and worse unnatural things relegated to myth during the centuries-long summer, but proving all too real and all too deadly in the turning of the season.
 
Yet a more immediate threat lurks to the south, where Jon Arryn, the Hand of the King, has died under mysterious circumstances. Now Robert is riding north to Winterfell, bringing his queen, the lovely but cold Cersei, his son, the cruel, vainglorious Prince Joffrey, and the queen s brothers Jaime and Tyrion of the powerful and wealthy House Lannister the first a swordsman without equal, the second a dwarf whose stunted stature belies a brilliant mind. All are heading for Winterfell and a fateful encounter that will change the course of kingdoms.
 
Meanwhile, across the Narrow Sea, Prince Viserys, heir of the fallen House Targaryen, which once ruled all of Westeros, schemes to reclaim the throne with an army of barbarian Dothraki whose loyalty he will purchase in the only coin left to him: his beautiful yet innocent sister, Daenerys.
 
Long live George Martin . . . a literary dervish, enthralled by complicated characters and vivid language, and bursting with the wild vision of the very best tale tellers. The New York Times
Parametre knihy
Celý názov: George R. R. Martin's A Game of Thrones Leather-Cloth Boxed Set (Song of Ice and Fire Series)
Podnázov: A Game of Thrones, A Clash of Kings, A Storm of Swords, A Feast for Crows, and A Dance with Dragons
Edícia: A Song of Ice and Fire, a-song-of-ice-and-fire
Jazyk: Angličtina
Väzba: Brožovaná
Počet strán: 5280
EAN: 9781101965481
ISBN: 1101965487
ID: 09380319 Nakladateľ: Random House Publishing
Hmotnosť: 2946 g
Rozmery: 253 × 172 × 136 mm
Dátum vydania: 27. október 2015
---
O tomto obchode




Nákupný poradca
Prehľady
Knihy podľa jazyka
---