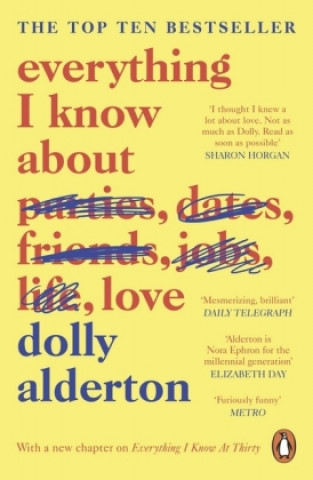 Kód: 20283148
Everything I Know About Love
Winner of Autobiography of the Year at the National Book Awards 2018 Shortlisted for the Waterstones Book of the Year 2018 Award-winning journalist Dolly Alderton survived her twenties (just about) and in Everything I Know About ... celý popis
9.47 €
Bežne: 10.87 €
Ušetríte 1.40 €

Skladom u dodávateľa
Odosielame do 4 dní
Pridať medzi želanie
Mohlo by sa vám tiež páčiť
Darčekový poukaz: Radosť zaručená
Darujte poukaz v ľubovoľnej hodnote, a my sa postaráme o zvyšok.
Poukaz sa vzťahuje na všetky produkty v našej ponuke.
Elektronický poukaz si vytlačíte z e-mailu a môžete ho ihneď darovať.
Platnosť poukazu je 12 mesiacov od dátumu vystavenia.
Viac informácií o knihe Everything I Know About Love
Nákupom získate 23 bodov
Anotácia knihy
Winner of Autobiography of the Year at the National Book Awards 2018
Shortlisted for the Waterstones Book of the Year 2018
Award-winning journalist Dolly Alderton survived her twenties (just about) and in Everything I Know About Love, she gives an unflinching account of the bad dates and squalid flat-shares, the heartaches and humiliations, and most importantly, the unbreakable female friendships that helped her to hold it all together. Glittering with wit, heart and humour, this is a book to press into the hands of every woman who has ever been there or is about to find themselves taking that first step towards the rest of their lives.
'Alderton is Nora Ephron for the millennial generation' Elizabeth Day
'Steeped in furiously funny accounts of one-night stands, ill-advised late-night taxi journeys up the M1, grubby flat-shares and the beauty of female friendships, as Alderton joyfully booze-cruises her way through her twenties' Metro
'Deeply funny, sometimes shocking, and admirably open-hearted and optimistic' Daily Telegraph
'The book we will thrust into our friends' hands . . . that will help heal a broken heart. Alderton's wise words can resonate with women of all ages. She feels like a best friend and your older sister all rolled into one and her pages wrap around you like a warm hug' Evening Standard
'A sensitive, astute and funny account of growing up millennial' Observer
'I loved its truth, self awareness, humour and most of all, its heart-spilling generosity' Sophie Dahl
'Alderton proves a razor-sharp observer of the shifting dynamics of long term female friendship' Mail on Sunday
'It's so full of life and laughs - I gobbled up this book. Alderton has built something beautiful and true out of many fragments of daftness' Amy Liptrot
Parametre knihy
Zaradenie knihy Knihy po anglicky Lifestyle, sport & leisure Humour
Celý názov: Everything I Know About Love
Autor: Dolly Alderton
Jazyk: Angličtina
Väzba: Brožovaná
Počet strán: 368
EAN: 9780241982105 ID: 20283148 Nakladateľ: Penguin Books
Hmotnosť: 264 g
Rozmery: 198 × 136 × 24 mm
Dátum vydania: 07. február 2019
Obľúbené z iného súdka
---
O tomto obchode




Nákupný poradca
Prehľady
Knihy podľa jazyka
---