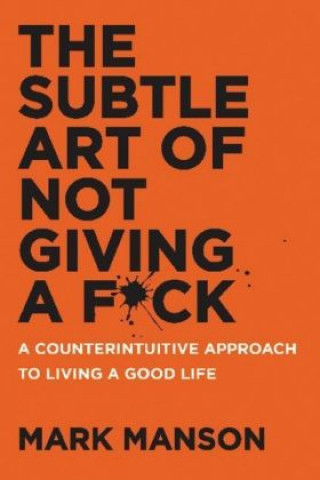 Kód: 13647686
The Subtle Art of Not Giving A F*ck
The Subtle Art of Not Giving a F++k is a self-help book aimed squarely at the millennial crowd, the ones who got gold medals for coming ninth in the running races. It posits that there are a limited number of fucks to give, so we ... celý popis
15.04 €
Bežne: 18.95 €
Ušetríte 3.91 €

Skladom u dodávateľa
Odosielame do 4 dní
Pridať medzi želanie
Mohlo by sa vám tiež páčiť
16.11 €
20.15 € -2 %
23.48 €
10.13 € -3 %
8.15 € -20 %
10.94 € -9 %
3.75 € -17 %
12.59 € -21 %
9.58 € -26 %
18.31 € -2 %
23.77 € -12 %
9.20 € -12 %
10.60 € -26 %
15.80 € -26 %
9.13 € -24 %
17.40 € -19 %
23.42 €
11.52 €
10.60 € -26 %
Darčekový poukaz: Radosť zaručená
Darujte poukaz v ľubovoľnej hodnote, a my sa postaráme o zvyšok.
Poukaz sa vzťahuje na všetky produkty v našej ponuke.
Elektronický poukaz si vytlačíte z e-mailu a môžete ho ihneď darovať.
Platnosť poukazu je 12 mesiacov od dátumu vystavenia.
Viac informácií o knihe The Subtle Art of Not Giving A F*ck
Nákupom získate 37 bodov
Anotácia knihy
The Subtle Art of Not Giving a F++k is a self-help book aimed squarely at the millennial crowd, the ones who got gold medals for coming ninth in the running races. It posits that there are a limited number of fucks to give, so we better work out which ones we care about.
The Subtle Art of Not Giving a F++k - profane, direct, funny-is a response to the orgy of delusional positive thinking that goes on, both within the personal development industry and American culture at large. Manson's book makes the argument, backed both by academic research and well-timed poop jokes, that our ability to improve our lives hinges not on our ability to turn lemons into lemonade, but rather on our ability to learn how to stomach lemons better. Once we embrace our fears, faults, and uncertainties, once we stop running and avoiding and instead start confronting the painful truths, we begin to find in ourselves a spontaneous emergence of classic virtues such as courage, perseverance, honesty, responsibility, curiosity, and forgiveness.
The key demo for this book is the Millennials. They have different political beliefs, different life priorities, different buying habits, and different sexual/romantic behavior to all previous generations. They are known for being cynical, super ADHD, and entitled, but thanks to the Internet they also happen to be the most well-informed generation (they read more news than anybody else), so what would the generation-defining self-help book of today look like?
Parametre knihy
Zaradenie knihy Knihy po anglicky Health & personal development Self-help & personal development Popular psychology
Celý názov: The Subtle Art of Not Giving A F*ck
Podnázov: A Counterintuitive Approach to Living a Good Life
Autor: Mark Manson
Jazyk: Angličtina
Väzba: Brožovaná
Počet strán: 224
EAN: 9780062641540
ISBN: 0062641549
ID: 13647686 Nakladateľ: Harper Collins Publishers
Hmotnosť: 208 g
Rozmery: 140 × 209 × 24 mm
Dátum vydania: 13. september 2016
Obľúbené z iného súdka
16.11 €
10.90 € -9 %
7.49 € -26 %
13.70 € -3 %
11.30 € -6 %
23.77 € -20 %
15.45 € -18 %
21.97 € -25 %
9.06 €
9.56 € -26 %
13.43 € -20 %
13.53 € -15 %
10.47 € -13 %
18.31 € -2 %
8.70 € -25 %
11.05 € -8 %
14.63 €
10.60 € -26 %
15.80 € -26 %
16.70 €
17.40 € -19 %
---
O tomto obchode




Nákupný poradca
Prehľady
Knihy podľa jazyka
---