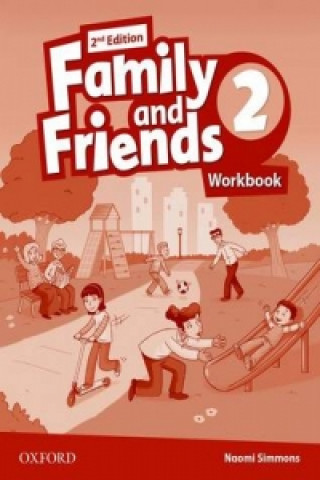 Kód: 04863783
Family and Friends: Level 2: Workbook
Family and Friends offers a carefully graded approach to reading, writing and literacy skills in English to young learners. No other course offers you the same benefits as Family and Friends. The exceptionally strong skills trai ... celý popis
11.47 €
Bežne: 13 €
Ušetríte 1.54 €

Skladom u dodávateľa
Odosielame do 3 dní
Pridať medzi želanie
Mohlo by sa vám tiež páčiť
Darčekový poukaz: Radosť zaručená
Darujte poukaz v ľubovoľnej hodnote, a my sa postaráme o zvyšok.
Poukaz sa vzťahuje na všetky produkty v našej ponuke.
Elektronický poukaz si vytlačíte z e-mailu a môžete ho ihneď darovať.
Platnosť poukazu je 12 mesiacov od dátumu vystavenia.
Viac informácií o knihe Family and Friends: Level 2: Workbook
Nákupom získate 27 bodov
Anotácia knihy
Family and Friends offers a carefully graded approach to reading, writing and literacy skills in English to young learners.
No other course offers you the same benefits as Family and Friends. The exceptionally strong skills training programme includes a focus on real speaking and writing output.
Plus - the amazing package of integrated print and digital resources suits all teaching situations and learner types, supporting students, teachers, and parents.
Use it with Little Friends and First Friends to make it an eight or nine-year course.
Parametre knihy
Zaradenie knihy Knihy po anglicky English language teaching (ELT) ELT: learning material & coursework ELT workbooks, practice books & exercises
Celý názov: Family and Friends: Level 2: Workbook
Podnázov: 2nd Edition
Autor: Naomi Simmons
Jazyk: Angličtina
Väzba: Brožovaná
Počet strán: 136
EAN: 9780194808040
ISBN: 978-0-19480804-0
ID: 04863783
Nakladateľ: Oxford University Press
Hmotnosť: 324 g
Rozmery: 278 × 220 × 7 mm
Dátum vydania: 23. január 2014
Obľúbené z iného súdka
---
O tomto obchode




Nákupný poradca
Prehľady
Knihy podľa jazyka
---
---
Všetky knihy sveta na jednom mieste. Navyše za skvelé ceny.

Nákupný košík ( prázdny )
---