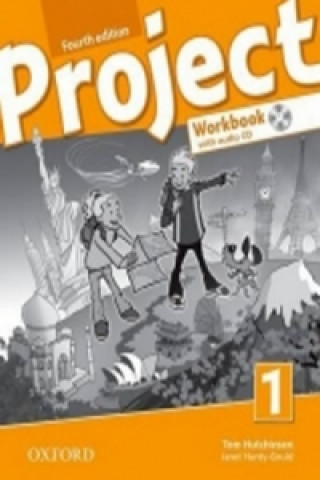 Kód: 00174972
Project Fourth Edition 1 Workbook
This new edition of Tom Hutchinson's bestselling course combines all the aspects that students and teachers loved from the previous edition with exiting new digital components, extra resources and more teacher support than ever be ... celý popis
12.52 €
Bežne: 13.46 €
Ušetríte 0.94 €

Skladom u dodávateľa
Odosielame do 3 dní
Pridať medzi želanie
Mohlo by sa vám tiež páčiť
Darčekový poukaz: Radosť zaručená
Darujte poukaz v ľubovoľnej hodnote, a my sa postaráme o zvyšok.
Poukaz sa vzťahuje na všetky produkty v našej ponuke.
Elektronický poukaz si vytlačíte z e-mailu a môžete ho ihneď darovať.
Platnosť poukazu je 12 mesiacov od dátumu vystavenia.
Viac informácií o knihe Project Fourth Edition 1 Workbook
Nákupom získate 31 bodov
Anotácia knihy
This new edition of Tom Hutchinson's bestselling course combines all the aspects that students and teachers loved from the previous edition with exiting new digital components, extra resources and more teacher support than ever before. Your students will love watching the new animated Mickey, Millie and Mut and Sweet Sue and Smart Alex cartoons. In later levels of the course the cartoons are replaced with dramatized episodes of Kids, the photo-story from the Student's Book. For your kinaesthetic learners there are new fun total physical response pronunciation activities in the pronunciation bank at the back of the Student's Book. Other students will enjoy reading the stories in the extensive reading bank. And you will love all the teacher support available with Project fourth edition. Use digital resources more effectively in your lessons with the digital workshops that give you step by step guides to using some of the most educationally beneficial sites on the internet as well as ideas for how you can use them with the projects in the Student's Book. Key Features: The tried and tested methodology of Project which is trusted by teachers around the world New animated cartoons and grammar presentations available through iTools New extensive reading bank with stories graded at the appropriate level New pronunciation bank including both TPR activities and quiet individual activities New test generator which allows you to create unique tests pitched to the right level for your students More multi-skill and communication exercises to prepare you students for using English in the real world
Parametre knihy
Zaradenie knihy Knihy po anglicky English language teaching (ELT) ELT: learning material & coursework ELT workbooks, practice books & exercises
Na knihu zľava pre
ISIC/ITIC držiteľov
12.52 €
Celý názov: Project Fourth Edition 1 Workbook
Podnázov: With Audio CD and Online Practice (International English Version)
Autor: Tom Hutchinson
Jazyk: Angličtina
Väzba: Brožovaná
Počet strán: 80
EAN: 9780194762885
ISBN: 978-0-947628-8-5
ID: 00174972 Nakladateľ: Oxford University Press
Hmotnosť: 246 g
Rozmery: 222 × 278 × 13 mm
Dátum vydania: 22. máj 2014
Obľúbené z iného súdka
---
O tomto obchode




Nákupný poradca
Prehľady
---
---
Sme tu pre vás ako obvykle. Zákaznícka podpora a doručenie zásielok bez obmedzenia.

Nákupný košík ( prázdny )
---