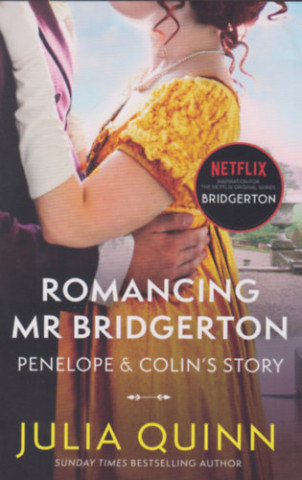 Kód: 33511960
Bridgerton: Romancing Mr Bridgerton
The fourth book in Julia Quinn's globally bestselling, Regency-set, Bridgerton Family series, now the inspiration for the Netflix series Bridgerton created by Shondaland. Welcome to Colin and Penelope's long-awaited story . . .  ... celý popis
8.97 €
Bežne: 11.78 €
Ušetríte 2.81 €

Skladom u dodávateľa
Odosielame do 3 dní
Pridať medzi želanie
Mohlo by sa vám tiež páčiť
Darčekový poukaz: Radosť zaručená
Darujte poukaz v ľubovoľnej hodnote, a my sa postaráme o zvyšok.
Poukaz sa vzťahuje na všetky produkty v našej ponuke.
Elektronický poukaz si vytlačíte z e-mailu a môžete ho ihneď darovať.
Platnosť poukazu je 12 mesiacov od dátumu vystavenia.
Viac informácií o knihe Bridgerton: Romancing Mr Bridgerton
Nákupom získate 21 bodov
Anotácia knihy
The fourth book in Julia Quinn's globally bestselling, Regency-set, Bridgerton Family series, now the inspiration for the Netflix series Bridgerton created by Shondaland. Welcome to Colin and Penelope's long-awaited story . . . 
Everyone knows that Colin Bridgerton is the most charming man in London . . . Penelope Featherington has secretly adored her best friend's brother for . . . well, it feels like forever. After half a lifetime of watching Colin Bridgerton from afar, she thinks she knows everything about him, until she stumbles across his deepest secret . . . and fears she doesn't know him at all. Colin Bridgerton is tired of being thought of as nothing but an empty-headed charmer, tired of the notorious gossip columnist Lady Whistledown, who can't seem to publish an edition without mentioning him.
But when Colin returns to London from a trip abroad, he discovers nothing in his life is quite the same - especially Penelope Featherington! The girl who was always simply there is suddenly the girl haunting his dreams. When he discovers that Penelope has secrets of her own, this elusive bachelor must decide . . . is she his biggest threat - or his promise of a happy ending?
Find out why readers love Julia Quinn . . .
Parametre knihy
Zaradenie knihy Knihy po anglicky Fiction & related items Romance Historical romance
Celý názov: Bridgerton: Romancing Mr Bridgerton
Podnázov: Bridgertons Book 4
Autor: Julia Quinn
Edícia: Bridgertons, bridgertons
Jazyk: Angličtina
Väzba: Brožovaná
Počet strán: 384
EAN: 9780349429458
ISBN: 0349429456
ID: 33511960
Nakladateľ: Little, Brown Book Group
Hmotnosť: 266 g
Rozmery: 127 × 196 × 43 mm
Dátum vydania: 04. február 2021
Obľúbené z iného súdka
---
O tomto obchode




Nákupný poradca
Prehľady
Knihy podľa jazyka
---