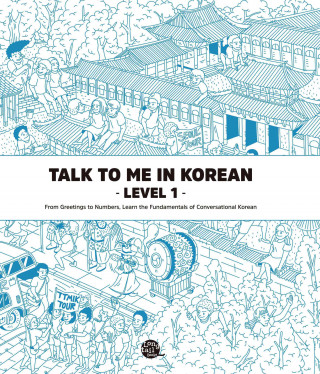 Kód: 13514617
Talk To Me In Korean - Level 1
Learn Korean More Effectively with Our Core Grammar Lessons From saying the basic greetings, to counting numbers, and to having simple yet natural conversations in Korean, you can learn the basics of the Korean language with this ... celý popis

Skladom u dodávateľa
Odosielame za 3 - 5 dní
Pridať medzi želanie
Mohlo by sa vám tiež páčiť
Darčekový poukaz: Radosť zaručená
Darujte poukaz v ľubovoľnej hodnote, a my sa postaráme o zvyšok.
Poukaz sa vzťahuje na všetky produkty v našej ponuke.
Elektronický poukaz si vytlačíte z e-mailu a môžete ho ihneď darovať.
Platnosť poukazu je 12 mesiacov od dátumu vystavenia.
Viac informácií o knihe Talk To Me In Korean - Level 1
Nákupom získate 64 bodov
Anotácia knihy
Learn Korean More Effectively with Our Core Grammar Lessons
From saying the basic greetings, to counting numbers, and to having simple yet natural conversations in Korean, you can learn the basics of the Korean language with this textbook. We made this book to help you learn Korean on your own, even if you don't go to a Korean language school to take a course.
This e-book is based on the lessons available on our website and in the podcast but improved and edited to fit the e-book format, so that you can learn Korean on your own. You can also download mp3 audio files including the recordings of all of the major vocabulary words, expressions, sample sentences and dialogues used in the book.
After learning each grammar point, you will also see a sample dialogue based on what you've learned in the certain unit. You will also see some exercise questions so that you can check and reinforce what you've learned.
Table Of Contents:
1. Hello, Thank you / 안녕하세요, 감사합니다
2. Yes, No, What? / 네, 아니요
3. Goodbye, See you / 안녕히 계세요, 안녕히 가세요
4. I'm sorry, Excuse me / 죄송합니다, 저기요
5. It's me, What is it? / -이에요, -예요
6. This is ..., What is this? / 이거 ..., 이거 뭐예요?
7. This, That, It / 이, 저, 그, 거/것
8. It's NOT me / 아니에요
9. Topic/Subject Marking Particles / -은/-는, -이/-가
10. Have, Don't have, There is, There isn't / 있어요, 없어요
11. Please give me ... / ... 주세요
12. It's delicious, It tastes awful, Thank you for the food / 맛있어요, 잘 먹겠습니다
13. I want to... / -고싶어요
14. What do you want to do? / 뭐 -고 싶어요?
15. Sino-Korean Numbers / 일, 이, 삼, 사, ...
16. BasicPresentTense / -아/-어/-여요
17. PastTense / -았/었/였어요
18. Location Marking Particles / 어디,-에,-에서
19. When / 언제
20. Native Korean Numbers / 하나, 둘, 셋, 넷, ...
21. Negative Sentences / 안, -지 않다
22. Verbs / 하다
23. Who? / 누구?
24. Why? How? / 왜? 어떻게?
25. From A To B, From C Until D / -에서/부터-까지
Parametre knihy
Zaradenie knihy Knihy po anglicky Language Language teaching & learning (other than ELT) Language teaching & learning material & coursework
Celý názov: Talk To Me In Korean - Level 1
Podnázov: From Greetings to Numbers, Learn the Fundamentals of Conversational Korean
Autor: Talk to Me in Korean
Jazyk: Angličtina
Väzba: Brožovaná
Počet strán: 164
EAN: 9791186701072
ID: 13514617
Nakladateľ: Korean Book Service
Hmotnosť: 370 g
Rozmery: 190 × 220 × 15 mm
Dátum vydania: 21. september 2015
Obľúbené z iného súdka
27.74 €
13.37 € -5 %
15.26 € -14 %
34.23 € -3 %
19.76 € -15 %
25.35 € -8 %
27.64 €
27.74 € -20 %
10.37 € -17 %
17.56 € -21 %
26.94 €
11.87 € -17 %
---
O tomto obchode




Nákupný poradca
Prehľady
Knihy podľa jazyka
---