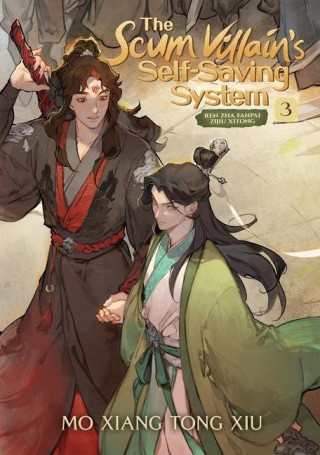 Kód: 37302176
Scum Villain's Self-Saving System: Ren Zha Fanpai Zijiu Xitong (Novel) Vol. 3
The blockbuster danmei/Boys' Love novels from China that inspired the animated Scumbag System series streaming in English! This hilarious story of a man reborn as a villain in a fantasy novel series who ends up romancing the male ... celý popis
18.93 €
Bežne: 21.74 €
Ušetríte 2.81 €

Skladom u dodávateľa
Odosielame za 3 - 6 dní
Pridať medzi želanie
Mohlo by sa vám tiež páčiť
Darčekový poukaz: Radosť zaručená
Darujte poukaz v ľubovoľnej hodnote, a my sa postaráme o zvyšok.
Poukaz sa vzťahuje na všetky produkty v našej ponuke.
Elektronický poukaz si vytlačíte z e-mailu a môžete ho ihneď darovať.
Platnosť poukazu je 12 mesiacov od dátumu vystavenia.
Viac informácií o knihe Scum Villain's Self-Saving System: Ren Zha Fanpai Zijiu Xitong (Novel) Vol. 3
Nákupom získate 45 bodov
Anotácia knihy
The blockbuster danmei/Boys' Love novels from China that inspired the animated Scumbag System series streaming in English!
 
This hilarious story of a man reborn as a villain in a fantasy novel series who ends up romancing the male protagonist is now in English, for the very first time.
Half-demon Luo Binghe rose from humble beginnings and a tortured past to become unrivaled in strength and beauty. With his harem of over three hundred wives, and dominion over both the human and demonic realms, he is truly the most powerful protagonist—in a trashy web novel series!
 
At least, that's what Shen Yuan, online alias "Peerless Cucumber," believes as he finishes reading the final chapter in Proud Immortal Demon Way. But when a combination of rage and a poor meal choice leads to his death, Shen Yuan finds himself reborn into the world of the web novel, in the body of Shen Qingqiu—the beautiful but cruel teacher to a young Luo Binghe. Although as Shen Qingqiu, he now has incredible power and abilities as a cultivator, he's destined to be horrifically punished for crimes against the protagonist, so this new Shen Qingqiu has only one course of action: get into Luo Binghe's good graces before the young man's rise to power. That's the only way he'll escape the awful fate of a true scum villain!
 
This Chinese fantasy (xianxia) comedy built around the romanticized love between two men (danmei) has been translated into numerous languages and inspired the animated series Scumbag System, which amassed millions of streaming views--including the English version on YouTube through Tencent Video. As the first novel series by Mo Xiang Tong Xiu to spur a global multimedia franchise, this incredibly fun tale led the way to her future blockbusters in the danmei genre: Grandmaster of Demonic Cultivation and Heaven Official's Blessing. The Seven Seas English-language edition will include exclusive, all-new covers and interior illustrations from Xiao Tong Kong (Velinxi) and feature a translation by Faelicy (faelicy) & Lily (lily_ocho).
Parametre knihy
Zaradenie knihy Knihy po nemecky Belletristik Science Fiction, Fantasy
Celý názov: Scum Villain's Self-Saving System: Ren Zha Fanpai Zijiu Xitong (Novel) Vol. 3
Autor: Mo Xiang Tong Xiu
Edícia: The Scum Villain's Self-Saving System: Ren Zha Fanpai Zijiu Xitong, the-scum-villain-s-self-saving-system-ren-zha-fanpai-zijiu-xitong
Jazyk: Angličtina
Väzba: Brožovaná
Počet strán: 444
EAN: 9781638582533
ISBN: 163858253X
ID: 37302176 Nakladateľ: Penguin LCC US
Hmotnosť: 604 g
Rozmery: 150 × 210 × 32 mm
Dátum vydania: 26. júl 2022
Obľúbené z iného súdka
---
O tomto obchode




Nákupný poradca
Prehľady
Knihy podľa jazyka
---
---
Všetky knihy sveta na jednom mieste. Navyše za skvelé ceny.

Nákupný košík ( prázdny )
---