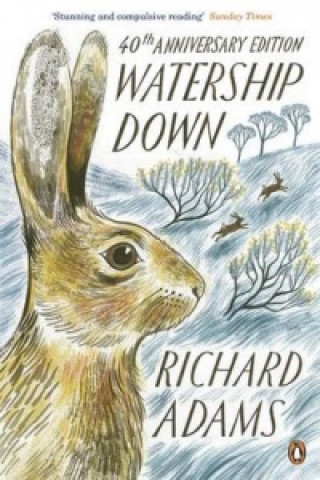 Kód: 01199966
Watership Down
40th anniversary edition of Richard Adams' picaresque saga about a motley band of rabbits - "Watership Down" is one of the most beloved novels of our time. Sandleford Warren is in danger. Hazel's younger brother Fiver is convinced ... celý popis
9.12 €
Bežne: 11.06 €
Dodáme do Vianoc

Skladom u dodávateľa
Odosielame do 4 dní
Pridať medzi želanie
Mohlo by sa vám tiež páčiť
Darujte túto knihu ešte dnes
Objednajte knihu a vyberte Zaslať ako darček.
Obratom obdržíte darovací poukaz na knihu, ktorý môžete ihneď odovzdať obdarovanému.
Knihu zašleme na adresu obdarovaného, o nič sa nestaráte.
Viac informácií o knihe Watership Down
Nákupom získate 22 bodov
Anotácia knihy
40th anniversary edition of Richard Adams' picaresque saga about a motley band of rabbits - "Watership Down" is one of the most beloved novels of our time. Sandleford Warren is in danger. Hazel's younger brother Fiver is convinced that a great evil is about to befall the land, but no one will listen. And why would they when it is Spring and the grass is fat and succulent? So together Hazel and Fiver and a few other brave rabbits secretly leave behind the safety and strictures of the warren and hop tentatively out into a vast and strange world. Chased by their former friends, hunted by dogs and foxes, avoiding farms and other human threats, but making new friends, Hazel and his fellow rabbits dream of a new life in the emerald embrace of Watership Down..."A gripping story of rebellion in a rabbit warren and the subsequent adventures of the rebels. Adams has a poetic eye and a gift for storytelling which will speak to readers of all ages for many years to come." ("Sunday Times"). "A masterpiece. The best story about wild animals since The Wind in the Willows. Very funny, exciting, often moving." ("Evening Standard"). "A great book. A whole world is created, perfectly real in itself, yet constituting a deep incidental comment on human affairs." (Guardian). Richard Adams grew up in Berkshire, the son of a country doctor. After an education at Oxford, he spent six years in the army and then went into the Civil Service. He originally began telling the story of "Watership Down" to his two daughters and they insisted he publish it as a book. It quickly became a huge success with both children and adults, and won the Guardian Children's Fiction Award and the Carnegie Medal in 1972. Richard Adams has written many novels and short stories, including "Shardik" and "The Plague Dogs".
Parametre knihy
Zaradenie knihy Knihy po anglicky Children's, Teenage & educational Children's / Teenage fiction & true stories Animal stories (Children's / Teenage)
Celý názov: Watership Down
Autor: Richard Adams
Jazyk: Angličtina
Väzba: Brožovaná
Počet strán: 496
EAN: 9780241953235
ISBN: 0241953235
ID: 01199966 Nakladateľ: Penguin Books
Hmotnosť: 344 g
Rozmery: 198 × 130 × 31 mm
Dátum vydania: 04. október 2012
Obľúbené z iného súdka
---
O tomto obchode




Nákupný poradca
Prehľady
Knihy podľa jazyka
---
---
Všetky knihy sveta na jednom mieste. Navyše za skvelé ceny.

Nákupný košík ( prázdny )
---