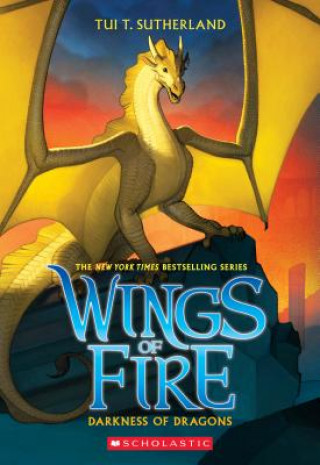 Kód: 20111884
Darkness of Dragons (Wings of Fire #10)
An ancient evil, a terrible prophecy -- and five dragonets who could save the world...Don't miss the most thrilling adventure yet in the New York Times bestselling Wings of Fire series! Qibli knows Darkstalker must be stopped. An ... celý popis
10.32 €
Bežne: 10.33 €
Ušetríte 0.01 €

Skladom u dodávateľa
Odosielame za 3 - 5 dní
Pridať medzi želanie
Mohlo by sa vám tiež páčiť
Darujte túto knihu ešte dnes
Objednajte knihu a vyberte Zaslať ako darček.
Obratom obdržíte darovací poukaz na knihu, ktorý môžete ihneď odovzdať obdarovanému.
Knihu zašleme na adresu obdarovaného, o nič sa nestaráte.
Viac informácií o knihe Darkness of Dragons (Wings of Fire #10)
Nákupom získate 25 bodov
Anotácia knihy
An ancient evil, a terrible prophecy -- and five dragonets who could save the world...Don't miss the most thrilling adventure yet in the New York Times bestselling Wings of Fire series!

Qibli knows Darkstalker must be stopped. And he knows he could stop him - if he had magic. With even a sliver of the ancient dragon's all-powerful scroll, Qibli could rewrite history the right way: end war forever; make every dragon happy; perhaps even cast a very small spell so that everyone would like him...Instead, as Darkstalker's dangerous influence spreads across Pyrrhia, entrancing or killing every dragon in the seven tribes, Qibli can only grasp the small animus objects he's borrowed from Turtle. With some clever thinking, Qibli's talons finally hold the power to make a difference. But prophecies are not easy to rewrite.
Can Qibli be the magical force Pyrrhia needs, or will he be the one to bring Jade Mountain - and his family, his friends, his whole world - crashing down?
Parametre knihy
Zaradenie knihy Knihy po anglicky Children's, Teenage & educational Children's / Teenage fiction & true stories Animal stories (Children's / Teenage)
Celý názov: Darkness of Dragons (Wings of Fire #10)
Autor: Tui T. Sutherland
Edícia: Wings of Fire, wings-of-fire
Jazyk: Angličtina
Väzba: Brožovaná
Počet strán: 432
EAN: 9780545685481 ID: 20111884 Nakladateľ: Scholastic
Hmotnosť: 282 g
Rozmery: 214 × 193 × 30 mm
Dátum vydania: 26. december 2018
Obľúbené z iného súdka
---
O tomto obchode




Nákupný poradca
Prehľady
Knihy podľa jazyka
---
---
Všetky knihy sveta na jednom mieste. Navyše za skvelé ceny.

Nákupný košík ( prázdny )
---