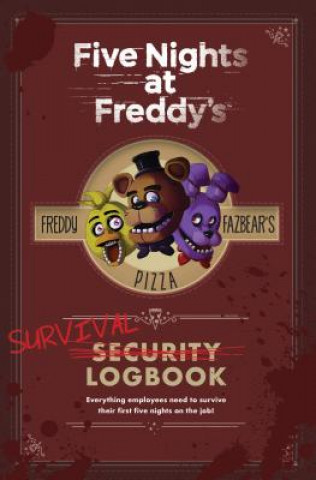 Kód: 16435664
Five Nights at Freddy's: Survival Logbook
Five Nights at Freddy's fans won't want to miss this Survival Logbook packed with prompts, quizzes, and lists - the perfect way to unwind after a thrilling night shift at Freddy Fazbear's Pizza. Based on the best-selling horror v ... celý popis
15.55 €
Bežne: 15.80 €
Dodáme do Vianoc

Skladom
Odosielame do 24 hodín
Pridať medzi želanie
Mohlo by sa vám tiež páčiť
Darujte túto knihu ešte dnes
Objednajte knihu a vyberte Zaslať ako darček.
Obratom obdržíte darovací poukaz na knihu, ktorý môžete ihneď odovzdať obdarovanému.
Knihu zašleme na adresu obdarovaného, o nič sa nestaráte.
Viac informácií o knihe Five Nights at Freddy's: Survival Logbook
Nákupom získate 38 bodov
Anotácia knihy
Five Nights at Freddy's fans won't want to miss this Survival Logbook packed with prompts, quizzes, and lists - the perfect way to unwind after a thrilling night shift at Freddy Fazbear's Pizza.

Based on the best-selling horror video game series Five Nights at Freddy's, this essential logbook offers night guards new to Freddy Fazbear's Pizza a chance for self-reflection during their first week on the job.
Quizzes, lists, and prompts throughout reinforce training, provide room to log in-game events, and allow for introspection on the best qualities of a Freddy's employee - namely, a genuine disregard for instinctive self-preservation.
It's all here in this logbook - just be sure to fill out your emergency contact information first!
Parametre knihy
Zaradenie knihy Knihy po anglicky Children's, Teenage & educational Children's / Teenage fiction & true stories Horror & ghost stories, chillers (Children's / Teenage)
Celý názov: Five Nights at Freddy's: Survival Logbook
Autor: Scott Cawthon
Edícia: Five Nights at Freddy's, five-nights-at-freddy-s
Jazyk: Angličtina
Väzba: Pevná
Počet strán: 112
EAN: 9781338229301
ISBN: 1338229303
ID: 16435664 Nakladateľ: Scholastic
Hmotnosť: 348 g
Rozmery: 161 × 224 × 16 mm
Dátum vydania: 01. marec 2018
Obľúbené z iného súdka
---
O tomto obchode




Nákupný poradca
Prehľady
Knihy podľa jazyka
---