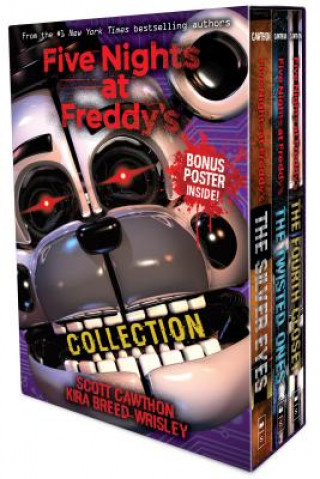 Kód: 19429113
Five Nights at Freddy's 3-book boxed set
From the #1 New York Times bestselling author and creator of Five Nights at Freddy's, don't miss this three-book boxed set, which includes an original print inspired by the trilogy! It's been 10 years since the horrific murders a ... celý popis

Skladom u dodávateľa v malom množstve
Odosielame za 3 - 5 dní
Potrebujete viac kusov?Ak máte záujem o viac kusov, preverte, prosím, najprv dostupnosť titulu na našej zákazníckej podpore.
Pridať medzi želanie
Mohlo by sa vám tiež páčiť
Darčekový poukaz: Radosť zaručená
Darujte poukaz v ľubovoľnej hodnote, a my sa postaráme o zvyšok.
Poukaz sa vzťahuje na všetky produkty v našej ponuke.
Elektronický poukaz si vytlačíte z e-mailu a môžete ho ihneď darovať.
Platnosť poukazu je 12 mesiacov od dátumu vystavenia.
Viac informácií o knihe Five Nights at Freddy's 3-book boxed set
Nákupom získate 76 bodov
Anotácia knihy
From the #1 New York Times bestselling author and creator of Five Nights at Freddy's, don't miss this three-book boxed set, which includes an original print inspired by the trilogy!
It's been 10 years since the horrific murders at Freddy Fazbear's Pizza tore the town of Hurricane, Utah, apart. Charlie, whose father owned the pizzeria, reunites with her childhood friends on the anniversary of the tragedy, and together they revisit the abandoned pizza place.
After they discover a way inside, they realize that things are not as they used to be. The four animatronic mascots that once entertained patrons have a dark secret . . . one that sets Charlie and her friends on a path to unravel the many mysteries her father - and his twisted partner - left behind.
Parametre knihy
Zaradenie knihy Knihy po anglicky Children's, Teenage & educational Children's / Teenage fiction & true stories Adventure stories (Children's / Teenage)
Celý názov: Five Nights at Freddy's 3-book boxed set
Autor: Scott Cawthon, Kira Breed-Wrisley
Jazyk: Angličtina
Väzba: Brožovaná
Počet strán: 1056
EAN: 9781338323023
ISBN: 9781338323023
ID: 19429113 Nakladateľ: Scholastic
Hmotnosť: 838 g
Rozmery: 140 × 212 × 57 mm
Dátum vydania: 06. september 2018
Obľúbené z iného súdka
---
O tomto obchode




Nákupný poradca
Prehľady
Knihy podľa jazyka
---
---
Sme tu pre vás ako obvykle. Zákaznícka podpora a doručenie zásielok bez obmedzenia.

Nákupný košík ( prázdny )
---