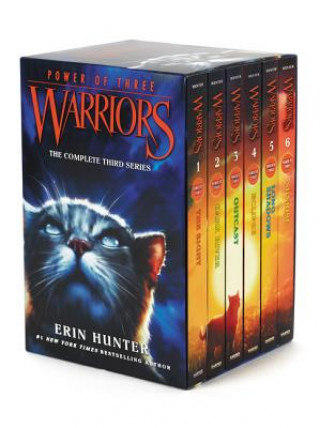 Kód: 09108685
Warriors: Power of Three Box Set: Volumes 1 to 6
Erin Hunter's #1 nationally bestselling Warriors series continues in Warriors: Power of Three! This box set includes all six books in the third Warriors series, and is perfect for the collections of longtime Erin Hunter fans and ... celý popis
41.39 €
Bežne: 48.60 €
Ušetríte 7.21 €

Skladom u dodávateľa
Odosielame za 9 - 14 dní
Pridať medzi želanie
Mohlo by sa vám tiež páčiť
Darujte túto knihu ešte dnes
Objednajte knihu a vyberte Zaslať ako darček.
Obratom obdržíte darovací poukaz na knihu, ktorý môžete ihneď odovzdať obdarovanému.
Knihu zašleme na adresu obdarovaného, o nič sa nestaráte.
Viac informácií o knihe Warriors: Power of Three Box Set: Volumes 1 to 6
Nákupom získate 101 bodov
Anotácia knihy
Erin Hunter's #1 nationally bestselling Warriors series continues in Warriors: Power of Three!
This box set includes all six books in the third Warriors series, and is perfect for the collections of longtime Erin Hunter fans and readers new to the Warriors world.
The wild cat Clans have lived in peace and harmony for many moons, but now strange messages from their warrior ancestors speak of a terrifying new prophecy and a mysterious danger.
The time has come for three young cats of ThunderClan-Hollypaw, Jawpaw, and Lionpaw-to become apprentices. Grandchildren of the great leader Firestar, they possess unusual power and talent. But secrets and uncertainty surround them, and a mysterious prophecy promises trouble to come. The fate of the warrior code rests in the paws of these three apprentices-and all of their strength will be needed for the Clans to survive.
Parametre knihy
Zaradenie knihy Knihy po anglicky Children's, Teenage & educational Children's / Teenage fiction & true stories Adventure stories (Children's / Teenage)
Celý názov: Warriors: Power of Three Box Set: Volumes 1 to 6
Autor: Erin Hunter
Edícia: Warriors: Power of Three, warriors-power-of-three
Jazyk: Angličtina
Väzba: Brožovaná
Počet strán: 2256
EAN: 9780062367167
ISBN: 9780062367167
ID: 09108685
Nakladateľ: HarperCollins Publishers Inc
Hmotnosť: 1552 g
Rozmery: 202 × 343 × 128 mm
Dátum vydania: 30. júl 2015
Obľúbené z iného súdka
20.64 €
10.36 €
10.36 €
10.17 € -10 %
8.91 € -19 %
10.17 € -10 %
11.33 €
9.59 € -19 %
9.10 € -20 %
10.27 € -15 %
7.45 € -22 %
9.78 € -20 %
9.49 € -23 %
9.59 € -22 %
7.45 € -22 %
8.42 € -23 %
8.23 € -25 %
---
O tomto obchode




Nákupný poradca
Prehľady
Knihy podľa jazyka
---