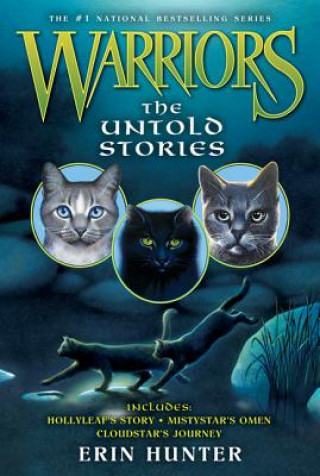 Kód: 02076221
Warriors: The Untold Stories
Three thrilling stand-alone novellas from the world of Erin Hunter's #1 bestselling Warriors series—together in print for the first time! In this Warriors story collection, experience three stand-alone adventures, previously avai ... celý popis
8.88 €
Bežne: 11.10 €
Nedodáme do Vianoc

Skladom u dodávateľa
Odosielame za 9 - 13 dní
Pridať medzi želanie
Mohlo by sa vám tiež páčiť
Darčekový poukaz: Radosť zaručená
Darujte poukaz v ľubovoľnej hodnote, a my sa postaráme o zvyšok.
Poukaz sa vzťahuje na všetky produkty v našej ponuke.
Elektronický poukaz si vytlačíte z e-mailu a môžete ho ihneď darovať.
Platnosť poukazu je 12 mesiacov od dátumu vystavenia.
Viac informácií o knihe Warriors: The Untold Stories
Nákupom získate 22 bodov
Anotácia knihy
Three thrilling stand-alone novellas from the world of Erin Hunter's #1 bestselling Warriors series—together in print for the first time!
In this Warriors story collection, experience three stand-alone adventures, previously available only as individual ebooks:
Hollyleaf's Story: Which cat saved Hollyleaf after she raced away from ThunderClan into the collapsing tunnels?
Mistystar's Omen: Why did Mistystar threaten to force Mothwing to step down as RiverClan's medicine cat?
Cloudstar's Journey: How did Cloudstar try to save SkyClan as Twolegs were encroaching on its territory?
Parametre knihy
Zaradenie knihy Knihy po anglicky Children's, Teenage & educational Children's / Teenage fiction & true stories Fantasy & magical realism (Children's / Teenage)
Celý názov: Warriors: The Untold Stories
Podnázov: Includes: Hollyleaf's Story; Mistystar's Omen; Cloudstar's Journey
Autor: Erin Hunter
Edícia: Warriors, warriors
Jazyk: Angličtina
Väzba: Brožovaná
Počet strán: 320
EAN: 9780062232922
ISBN: 0062232924
ID: 02076221 Nakladateľ: HarperCollins Publishers Inc
Hmotnosť: 216 g
Rozmery: 189 × 172 × 17 mm
Dátum vydania: 04. december 2014
Obľúbené z iného súdka
---
O tomto obchode




Nákupný poradca
Prehľady
Knihy podľa jazyka
---
---
Všetky knihy sveta na jednom mieste. Navyše za skvelé ceny.

Nákupný košík ( prázdny )
---