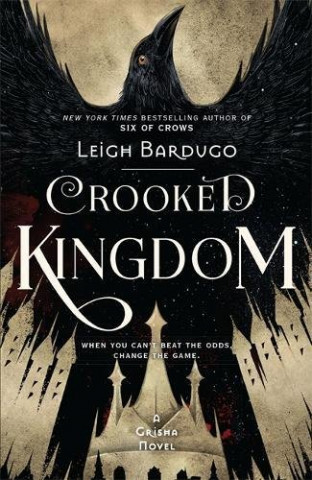 Kód: 15188466
Crooked Kingdom
The hotly-anticipated sequel to SIX OF CROWS, this is GAME OF THRONES meets OCEAN'S ELEVEN in a fantasy epic from the number 1 NEW YORK TIMES bestselling author Leigh Bardugo. Welcome to the world of the Grisha. Kaz Brekker and ... celý popis
9.02 €
Bežne: 10.87 €
Ušetríte 1.85 €

Skladom u dodávateľa
Odosielame do 4 dní
Pridať medzi želanie
Mohlo by sa vám tiež páčiť
Darčekový poukaz: Radosť zaručená
Darujte poukaz v ľubovoľnej hodnote, a my sa postaráme o zvyšok.
Poukaz sa vzťahuje na všetky produkty v našej ponuke.
Elektronický poukaz si vytlačíte z e-mailu a môžete ho ihneď darovať.
Platnosť poukazu je 12 mesiacov od dátumu vystavenia.
Viac informácií o knihe Crooked Kingdom
Nákupom získate 22 bodov
Anotácia knihy
The hotly-anticipated sequel to SIX OF CROWS, this is GAME OF THRONES meets OCEAN'S ELEVEN in a fantasy epic from the number 1 NEW YORK TIMES bestselling author Leigh Bardugo.
Welcome to the world of the Grisha. Kaz Brekker and his crew of deadly outcasts have just pulled off a heist so daring even they didn't think they'd survive. But instead of divying up a fat reward, they're right back to fighting for their lives. Double-crossed and badly weakened, the crew is low on resources, allies, and hope.
As powerful forces from around the world descend on Ketterdam to root out the secrets of the dangerous drug known as jurda parem, old rivals and new enemies emerge to challenge Kaz's cunning and test the team's fragile loyalties. A war will be waged on the city's dark and twisting streets - a battle for revenge and redemption that will decide the fate of the Grisha world.
As gripping, sweeping and memorable as the Grisha trilogy - SHADOW AND BONE, SIEGE AND STORM and RUIN AND RISING - this novel is perfect for fans of Sarah J. Maas, Laini Taylor, Kristin Cashore and GAME OF THRONES.
Parametre knihy
Zaradenie knihy Knihy po anglicky Children's, Teenage & educational Children's / Teenage fiction & true stories Fantasy & magical realism (Children's / Teenage)
Celý názov: Crooked Kingdom
Podnázov: (Six of Crows Book 2)
Autor: Leigh Bardugo
Jazyk: Angličtina
Väzba: Brožovaná
Počet strán: 560
EAN: 9781780622316
ISBN: 1780622317
ID: 15188466 Nakladateľ: Hachette Children's Book
Hmotnosť: 436 g
Rozmery: 130 × 198 × 36 mm
Dátum vydania: 04. máj 2017
Obľúbené z iného súdka
---
O tomto obchode




Nákupný poradca
Prehľady
Knihy podľa jazyka
---