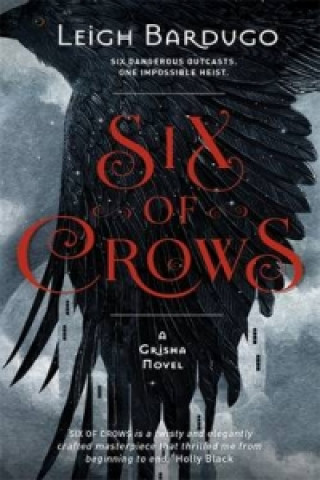 Kód: 09541923
Six of Crows
Criminal prodigy Kaz Brekker is offered a chance at a deadly heist that could make him rich beyond his wildest dreams - but he can't pull it off alone. A convict with a thirst for revenge. A sharpshooter who can't walk away fro ... celý popis
8.89 €
Bežne: 11.01 €
Ušetríte 2.12 €

Skladom u dodávateľa
Odosielame do 3 dní
Pridať medzi želanie
Mohlo by sa vám tiež páčiť
Darčekový poukaz: Radosť zaručená
Darujte poukaz v ľubovoľnej hodnote, a my sa postaráme o zvyšok.
Poukaz sa vzťahuje na všetky produkty v našej ponuke.
Elektronický poukaz si vytlačíte z e-mailu a môžete ho ihneď darovať.
Platnosť poukazu je 12 mesiacov od dátumu vystavenia.
Viac informácií o knihe Six of Crows
Nákupom získate 22 bodov
Anotácia knihy
Criminal prodigy Kaz Brekker is offered a chance at a deadly heist that could make him rich beyond his wildest dreams - but he can't pull it off alone.
A convict with a thirst for revenge.
A sharpshooter who can't walk away from a wager.
A runaway with a privileged past.
A spy known as the Wraith.
A Heartrender using her magic to survive the slums.
A thief with a gift for unlikely escapes.
Six dangerous outcasts. One impossible heist. Kaz's crew is the only thing that might stand between the world and destruction - if they don't kill each other first.
Parametre knihy
Zaradenie knihy Knihy po anglicky Children's, Teenage & educational Children's / Teenage fiction & true stories Fantasy & magical realism (Children's / Teenage)
Celý názov: Six of Crows
Autor: Leigh Bardugo
Edícia: Six of Crows, six-of-crows
Jazyk: Angličtina
Väzba: Brožovaná
Počet strán: 512
EAN: 9781780622286
ISBN: 1780622287
ID: 09541923
Nakladateľ: Hachette Children's Book
Hmotnosť: 408 g
Rozmery: 198 × 129 × 32 mm
Dátum vydania: 02. jún 2016
Obľúbené z iného súdka
---
O tomto obchode




Nákupný poradca
Prehľady
Knihy podľa jazyka
---