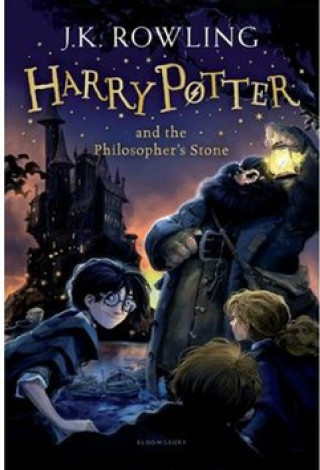 Kód: 02676345
Harry Potter and the Philosopher's Stone 1
When a letter arrives for unhappy but ordinary Harry Potter, a decade-old secret is revealed to him that apparently he's the last to know. His parents were wizards, killed by a Dark Lord's curse when Harry was just a baby, and whi ... celý popis

Skladom u dodávateľa
Odosielame za 4 - 7 dní
Pridať medzi želanie
Mohlo by sa vám tiež páčiť
Darčekový poukaz: Radosť zaručená
Darujte poukaz v ľubovoľnej hodnote, a my sa postaráme o zvyšok.
Poukaz sa vzťahuje na všetky produkty v našej ponuke.
Elektronický poukaz si vytlačíte z e-mailu a môžete ho ihneď darovať.
Platnosť poukazu je 12 mesiacov od dátumu vystavenia.
Viac informácií o knihe Harry Potter and the Philosopher's Stone 1
Nákupom získate 21 bodov
Anotácia knihy
When a letter arrives for unhappy but ordinary Harry Potter, a decade-old secret is revealed to him that apparently he's the last to know. His parents were wizards, killed by a Dark Lord's curse when Harry was just a baby, and which he somehow survived. Leaving his unsympathetic aunt and uncle for Hogwarts, a wizarding school brimming with ghosts and enchantments, Harry stumbles upon a sinister mystery when he finds a three-headed dog guarding a room on the third floor. Then he hears of a missing stone with astonishing powers which could be valuable, dangerous - or both. An incredible adventure is about to begin! These new editions of the classic and internationally bestselling, multi-award-winning series feature instantly pick-up-able new jackets by Jonny Duddle, with huge child appeal, to bring Harry Potter to the next generation of readers. It's time to PASS THE MAGIC ON .
Parametre knihy
Zaradenie knihy Knihy po anglicky Children's, Teenage & educational Children's / Teenage fiction & true stories Fantasy & magical realism (Children's / Teenage)
Celý názov: Harry Potter and the Philosopher's Stone 1
Autor: Joanne K. Rowling
Jazyk: Angličtina
Väzba: Brožovaná
Počet strán: 352
EAN: 9781408855652
ISBN: 1408855658
ID: 02676345 Nakladateľ: Bloomsbury Publishing
Hmotnosť: 289 g
Rozmery: 210 × 135 × 25 mm
Dátum vydania: 30. apríl 2015
Obľúbené z iného súdka
---
O tomto obchode




Nákupný poradca
Prehľady
---
Osobný odber Bratislava, Banská Bystrica, Košice a 1012 dalších
Pri poskytovaní služieb nám pomáhajú súbory cookies. Používaním našich služieb vyjadrujete súhlas ich užívaním. Viac informácií
---
Sme tu pre vás ako obvykle. Zákaznícka podpora a doručenie zásielok bez obmedzenia.

Nákupný košík ( prázdny )
---