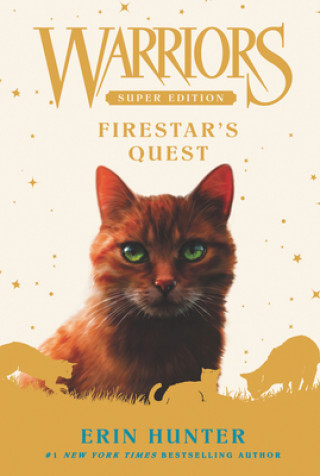 Kód: 04397039
Warriors Super Edition: Firestar's Quest
An epic stand-alone adventure in Erin Hunter's #1 nationally bestselling Warriors series! Set just after the events of Warriors #6: The Darkest Hour, this Super Edition follows the ThunderClan leader Firestar on a quest to uncove ... celý popis
8.15 €
Bežne: 10.56 €
Ušetríte 2.41 €

Skladom u dodávateľa
Odosielame za 3 - 5 dní
Pridať medzi želanie
Mohlo by sa vám tiež páčiť
Darčekový poukaz: Radosť zaručená
Darujte poukaz v ľubovoľnej hodnote, a my sa postaráme o zvyšok.
Poukaz sa vzťahuje na všetky produkty v našej ponuke.
Elektronický poukaz si vytlačíte z e-mailu a môžete ho ihneď darovať.
Platnosť poukazu je 12 mesiacov od dátumu vystavenia.
Viac informácií o knihe Warriors Super Edition: Firestar's Quest
Nákupom získate 20 bodov
Anotácia knihy
An epic stand-alone adventure in Erin Hunter's #1 nationally bestselling Warriors series!
Set just after the events of Warriors #6: The Darkest Hour, this Super Edition follows the ThunderClan leader Firestar on a quest to uncover a long-forgotten truth.
It is a time of peace between the warrior Clans, and all four are thriving. Then Firestar, leader of ThunderClan, discovers a terrible secret: the warrior ancestors of StarClan have lied to him. Firestar must embark on a perilous journey to right their wrong—and nothing will ever be the same again.
Join the legion of fans who have discovered the epic adventures, fierce warrior cats, and thrilling fantasy world of the mega-bestselling Warriors series. This stand-alone entry is perfect for new readers and dedicated fans alike.
Parametre knihy
Zaradenie knihy Knihy po anglicky Children's, Teenage & educational Children's / Teenage fiction & true stories Fantasy & magical realism (Children's / Teenage)
Celý názov: Warriors Super Edition: Firestar's Quest
Autor: Erin Hunter
Jazyk: Angličtina
Väzba: Brožovaná
Počet strán: 544
EAN: 9780061131677
ISBN: 0061131679
ID: 04397039 Nakladateľ: HarperCollins Publishers Inc
Hmotnosť: 356 g
Rozmery: 191 × 133 × 30 mm
Dátum vydania: 12. február 2015
Obľúbené z iného súdka
---
O tomto obchode




Nákupný poradca
Prehľady
Knihy podľa jazyka
---
---
Sme tu pre vás ako obvykle. Zákaznícka podpora a doručenie zásielok bez obmedzenia.

Nákupný košík ( prázdny )
---